Limacol Knockout Football Tournament…
The Limacol Knockout Football tournament continued over the past weekend with a massive double-header in which, in a series of twists and thrills that left the vociferous crowd satisfied at the end of the night's proceedings, Pouderoyen defeated Grove Hi-Tec 2 – 1 and Georgetown Football Club (GFC) trounced Buxton Stars 4 – 1, to truly show that only time can tell the final outcome of this tournament.
Pouderoyen and Grove Hi Tec were both looking for wins in the competition, and their intent was fully expressed on field with both sides' playing an attacking style of play. In a game filled with trips, flips and appeals, Denzil Crawford was able to place his team in a comfortable position with a one goal advantage in the 13th minute.
Already having a goal to their name, Grove Hi Tec continu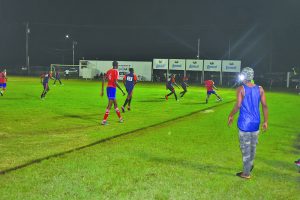 ed to play in a desperate hunt for the second; and as time elapsed, desperation got the better of them and the players seemed to slack up, leaking opportunities to the opposing team.
Pouderoyen wasted no time in capitalising, sinking their first goal in the 65th
minute off the boots of Sebastian Edwards. The shock took a toll on Grove Hi Tec, as Ashley Harding came through for his team as he did in their previous match, with a goal in the 70th minute. The encounter ended 2-1 in The West Coast team's favour.

Next to compete were GFC and Buxton Stars. Either team seemed level headed at the beginning of the encounter, opting for a "knock ball" style of play.
Buxton were on top of the world after striking their first goal, which came from Shamar Scott in the 21st minute. But their joy was short-lived, as GFC got their groove on.
Alberto Basanta was the first GFC player to get the scoreboard ticking in the 35th minute, with a sneaky one. The rest of the first half passed quietly.
With the score one all, both teams tried restlessly to one-up the opponent, but only GFC was successful at this.
In the 75th minute Ronald Rodrigues got his piece of the pie, and three minutes later, Rondel Peters showed up to the scoring party. The score was then already enough to win them the encounter, but in the 85th minute Marcus Wilson added salt to Buxton's wounds as he pushed his team to a 4-1 victory.
The Limacol action will continue on Tuesday, September 18, with Riddim Squad and Buxton Stars facing off at 18:00 hrs. Then, at 20:00hrs, Santos FC and Beacon FC will compete for points.
All matches are being played at the Ministry of Education Ground on Carifesta Avenue.