WJ Enterprise, a Regent Street wholesaler, has come on board in support of the Guyana Football Federation (GFF)-ExxonMobil International Futsal Festival with the donation of an undisclosed sum.
The donation was made on Tuesday by one of the agency's Directors, Nalea Naraine to GFF's Debra Francis and tournament organiser representative Kashif and Shanghai's Aubrey "Shanghai" Major.
Naraine said her company was pleased to support the development of sports in Guyana: "Our company is very happy to be a part of the GFF-ExxonMobil International Futsal Tournament, because we are happy to contribute to the development of sports and also happy that young athletes, through this festival,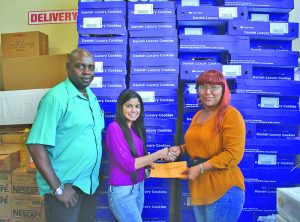 will be given a platform to showcase their talents."
The four-day festival will kick off with six matches that will be played between 18:00h and 00:00h, with each match being played on the hour culminating with the final match beginning at 23:00h.
The international teams participating in the Festival include Morvant Caledonia United from Trinidad and Tobago and a São Paulo selection from Brazil. The local teams are East Coast All-Stars, Linden All-Stars, Georgetown All-Stars and West Demerara All-Stars.
The winning team will pocket $1.2 million, while the losing finalist will receive half that amount. The third and fourth-place finishers will pocket $300,000 and $100,000 respectively.