– as African nation continues to support Guyana's draft Local Content Bill
Ghanian Vice President, Dr Mahamudu Bawumia, in Guyana on a three-day visit to advance bilateral cooperation, is expected to sign several bilateral cooperation agreements that will further improve relations between the two countries.
The Vice President arrived in Guyana on Saturday, and was greeted by a military guard of honour and Prime Minister Brigadier (retired) Mark Phillips. Dr Bawumia, who will be in Guyana from December 4 through 7, also arrived with an 18-member official delegation as well as members of the Ghanian Private sector.
"While in Guyana, His Excellency Dr Bawumia and delegation will engage in high-level bilateral discussions at both the Government and Private Sector levels, including engagements with President Irfaan Ali, Prime Minister Mark Phillips (retired), Vice President Bharrat Jagdeo, and other Ministers of Government. Vice President Bawumia will also meet with members of the Ghanaian diaspora and pay a visit to the University of Guyana," a press release revealed.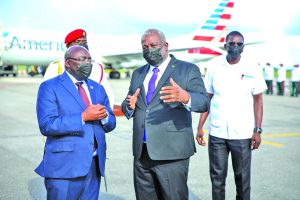 "The two sides will also sign a framework bilateral cooperation agreement and further advance the conclusion of agreements in areas of mutual interest. Prior to departing Guyana, Vice President Bawumia is expected to co-host a press conference with his Guyanese counterpart, Vice President Bharrat Jagdeo," the release added.
Vice President Bawumia's visit follows on the heels of the three-day visit Jagdeo paid to Ghana in October, where he had held talks with his Ghanian counterpart. Following these discussions, he had announced that Ghanian experts would be reviewing Guyana's draft local content legislation.
During Jagdeo's meeting with the Ghanian Vice President, they had also spoke about the initiatives that Ghana implemented to further its industrial agenda and develop its non-oil economy.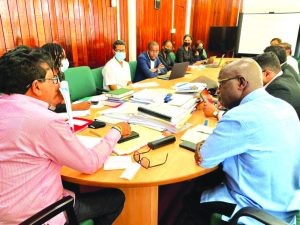 According to Jagdeo in a subsequent interview, Guyana with its vast arable lands in the savannahs and the prevalence of fresh water, is uniquely positioned to capitalise on the agricultural sector and the global demand.
The Vice President was accompanied on his visit to Ghana by Floyd Haynes, a member of the Advisory Panel on Local Content in Guyana; Gopnauth Bobby Gossai Jr of the Ministry of Natural Resources, and career Diplomat Hamley Case.
Local content
True to the talks Jagdeo held with Bawumia, Ghanian experts have been helping with Guyana's local content efforts. In fact, Attorney General Anil Nandlall has said that Ghanian support and influence is proving integral to Guyana as it crafts its own Local Content Bill that draws on the experience of those who have walked that road before.
Earlier in the week, Nandlall met with Professor Joe Amoako-Tuffour of the Economic Management Team in the Office of the Vice President in Ghana. In a press release following the meeting, Nandlall noted that strenuous efforts are being made to pilot the Local Content Bill.
According to him, the bill must be simple yet be able to set up an effective framework to protect Guyana and its people. Nandlall explained that the bill draws heavily from the examples set by Ghana and other countries who set up local content policies.
Additionally, crafting the bill received the support of the Professor himself. When it comes to the Sovereign Wealth Fund, Nandlall explained that the emphasis is on creating a transparent, accountable and rigid framework.
For his part, Professor Tuffour shared lessons that were learnt by the Ghanaian Government when drafting legislation of this nature. He shared the experiences of eight oil producing countries which he studied and explained the strategies and mechanisms they used.
Ghanian support for Guyana's local content efforts was garnered through the bilateral efforts of the Guyana Government. In October, Vice President Jagdeo visited Ghana where a commitment was made to provide this support. Before that, President Ali had held discussions with Ghanian President Nana Akufo-Addo.
On behalf of the Government of Guyana, the Attorney General expressed his gratitude to Professor Tuffour and the Government of Ghana, for offering Guyana their experience, guidance, and expertise.
Also present at the meeting was a team from the Ministry of Natural Resources. Ghana has been producing and exporting crude oil since 2011, having discovered the resource in commercial quantities back in 2007. Guyana begun producing oil in December 2019 in the Stabroek Block offshore, where there is said to be some 9 billion barrels of oil equivalent.
The two countries officially established diplomatic relations on May 14, 1979.