Giving Hope Foundation on Monday partnered with the Public Health Ministry, Office of the First Lady, the Pan American Health Organization (PAHO) and the World Health Organization (WHO) to launch its second annual "Bereavement Camp."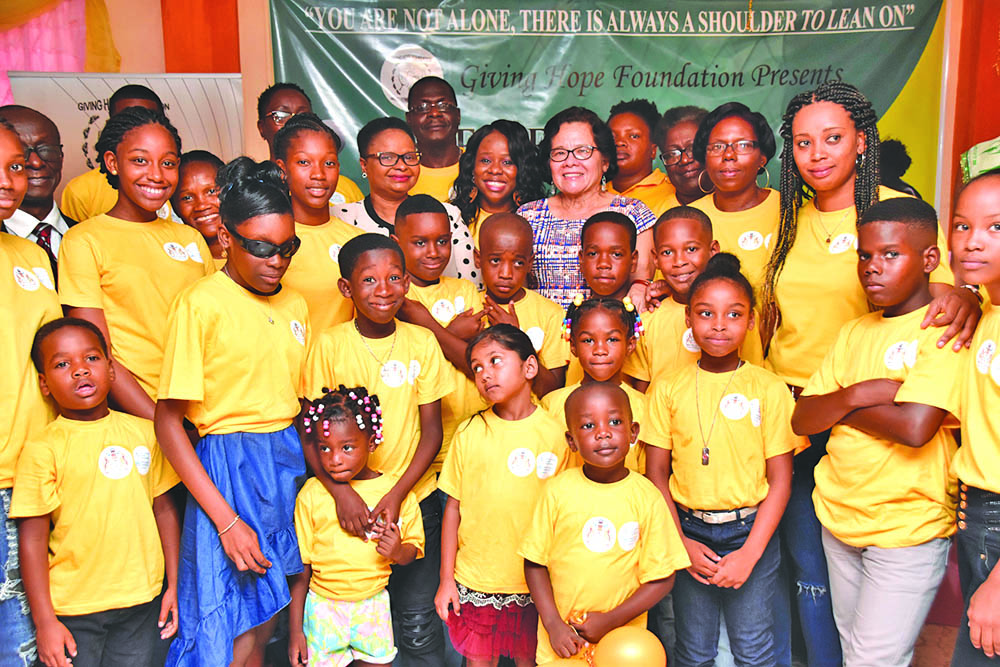 The camp, which will provide counselling and other forms of coping mechanisms for children who have lost a parent or family member to cancer or suicide, is aimed at supporting cancer awareness and quality of life improvement for cancer patients and their families.
First Lady Sandra Granger urged the young participants to utilise their time spent at the camp, as she highlighted the benefits they would gain from the activity.
"What I love about Giving Hope Foundation is the energy and enthusiasm with which they approach their projects. As they said they are looking at care, they are looking at counselling, they are looking for support. So when we look at the survivor's camp [Bereavement Camp], which began last year, they are bringing young people who may not be able to cope with the loss of a parent or a sibling or some friend or relative, to share experiences, to understand and accept that what they are going through and what they are feeling is natural."
Further, she posited that the camp will be teaching those persons targeted"not only to just get by, but to get on. It is helping you to take that first step towards moving on in life and accepting your grief as natural," the First Lady said.
Public Health Minister Volda Lawrence said she is pleased to be part of the camp's hosting, and offered kind words of encouragement to the camp's participants even as she expressed her gratitude to the Foundation for incorporating the Ministry of Public Health in the venture.
"I am sure that during your camp sessions you will learn more about cancer, and will have the opportunity to ask questions. So, as you become ambassadors, you will be able to share with others. I wish to thank all of the organizers, those present and not present, and the Giving Hope Foundation, for inviting me to be a participant in this ceremony. Once again, I pledge the Ministry of Public Health's commitment and support to initiatives of this nature," the Minister noted.
PAHO/WHO's Country Representative Dr William Adu-Krow used the occasion to pledge his organization's support to the cause.
President of the Giving Hope Foundation, Dr Latoya Gooding, explained that the Bereavement Camp this year facilitates 50 children and will be hosted at Camp Madewini on the Linden Highway. Dr Gooding also gave an overview of the activities intended to be covered during the one-week camp.
"We will be having psychological sessions. We have Dr. Ren Gonsalvez from the Eureka Medical Laboratory, and we have Mr. Will Campbell and Ms. Renita Savory from the Ministry of Public Health, who will be travelling each day to conduct psychological sessions with these children. After the psychological sessions, we have included some craft for the children, among other activities," she shared.
The Giving Hope Foundation is a non-profit organisation that is dedicated to improving the quality of life and addressing mental health issues in both adults and children diagnosed with cancer and other chronic illnesses in Guyana.