Only a few days are left before the ultimate showdown among the mechanical monsters takes place on the South Dakota track, and intense preparations are ongoing in the camp of Team Secure Innovations & Concepts Inc. (SI&C) with the aim of commanding a presence when activities get underway.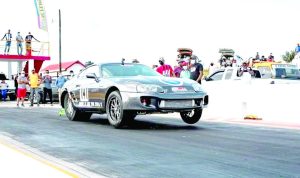 As the team complete their preparation, Denzel Hopkinson, driver of the team's 'Kong', that fearsome 2Jz Supra that would be in contention among the mechanical behemoths, has expressed confidence in the machine and his ability to steer it in the 7-second margin.
That Supra had won the Unlimited class at the Guyana Motor Racing & Sports Club (GMR&SC) 1320 Heat Rematch in October 2019 with a time of 8.7s, and it still has immense potential, according to Hopkinson, who is eager to get back on the South Dakota Drag Strip.
The former Karting Champion mentioned that the fastest time he has recorded with the machine was an unofficial 8.2 seconds last year, but mechanical problems have since precluded any top performance from being recorded.
However, thanks to the team's mechanics, S&D Performance, issues have been resolved; and with help from Time Machine Racing out of Miami, the vehicle has been tuned.
The main bugbear to the vehicle's performance had pertained to the lagged building of boost, and computer issues had led to manual shifting of gears.
Going forward, Hopkinson believes he can register a high to mid-7-second time, with the car's main advantage being its handling, which is an asset on the somewhat tricky South Dakota 1320 drag strip.
However, the main focus of Team SI&C is to stop the 'foreign' competitors (from Trinidad & Tobago and Suriname) in their tracks, then look to get past at least one of Team Mohamed's GTR vehicles.
Fans who were unable to pick up their tickets prior to race day would have no worries, since tickets would be on sale on Sunday at the South Dakota Track, Timehri. Tickets for the event cost $2000 for adults and $1000 for kids, while VIP and VVIP arrangements cost $30,000 and $40,000 respectively.