The Guyana National Bureau of Standards (GNBS) and Caricom Regional Organisation for Standards and Quality (CROSQ) on Thursday held a media sensitisation programme to establish the importance of Quality Infrastructure (QI).
During the programme, the GNBS highlighted that it hoped to become the country's lead organisation in terms of quality and standards.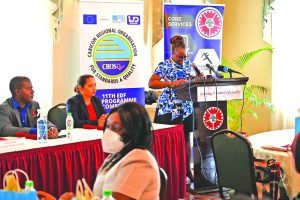 Head of Corporate Communications at GNBS, Lloyd David, at the event, explained that in order to accomplish this goal, the organisation must partner with all the sectors in Guyana.
"We have a vision and it is to be the premier national institution for standards and quality in Guyana. We must be the best; we must lead in terms of when it comes to quality and standards in Guyana. Our mission is to develop and implement a national Quality Infrastructure…we want to develop a Quality Infrastructure for partnership with sectors, so all the sectors we need to partner with. We cannot do it by ourselves, we need to partner with those in tourism, those in agriculture, those even in the transportation industry…wherever there is a sector we want to work to ensure that our services are there, because we want to have socioeconomic development and obviously to protect the consumers," David related.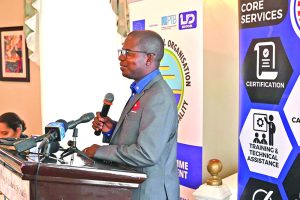 Technical Officer at the CROSQ, Latoya Burnham pointed out that QI basically stood on five pillars to form a system that works to facilitate the best quality in products.
"Quality Infrastructure it is a lot, it is all of these areas, what we call the five pillars of quality working together to create a system that works, functions, that's effective and efficient," she said.
"It's standardisation; metrology (metrology is the science of weights and measurements); we're talking about accreditation…; there's conformity assessment: conformity assessment covers the testing, inspection and certification services and finally, there is quality promotions."
Burnham lauded the actions taken so far by the GNBS in the QI services provided to Guyana which are recognised throughout the Region.
Meanwhile, David said that the GNBS, which is an ISO-certified organisation, provides core services such as standard development, certification, calibration &testing, verification, and product inspection along with training and consultancy among other services.
The GNBS has recently launched the Made in Guyana certification mark, which not only indicates that the product is made in Guyana but that it meets the necessary quality standards.
"Recently, we introduced the Made in Guyana certification mark, which is a mark that companies apply. So far, we have three companies on board certified to their products and this, of course, is an opportunity to showcase Made in Guyana; it attests that the product is meeting quality and other requirements and the company is fulfilling certain requirements to be considered Made in Guyana. We are pleased.
"We would like more and more companies to come on board; at this time, there are many companies that we're auditing, so in a few weeks' time, more and more companies would certify and their products will be certified."