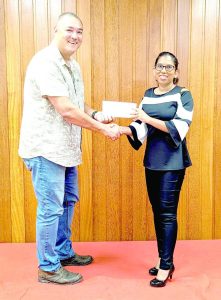 The Executive Committee of the Guyana Olympic Association (GOA) last Thursday materialised their support for the Guyana Squash Association (GASA) with a contribution towards expenses related to their participation in the Pan American Squash Championships (Qualifier for Pan-Am Games) which are scheduled to be held in Cartagena, Colombia from June 4 – 10, 2023.
Among the powerhouses of the region that would be participating in these Championships are USA, Canada, Colombia, Mexico and Peru (which now is the home of the world #1 Men's player). If Guyana qualifies, the Pan-Am Games would be held later this year in Santiago, Chile.
President of the Guyana Squash Association, Mr David Fernandes, has thanked the Executive Committee members for the support received. Guyana's Men's and Women's teams dominated the Caribbean Championships in 2022, winning not only the team Championship, but also taking home gold in the Men's and Women's doubles. They hope to carry this momentum to better their last showing in the 2019 qualifiers, where the Women got 6th (qualifying for the Pan-Am Games) and the Men got 10th, falling just short of qualification of the 2019 Pan-Am Games.
At the handover ceremony, Secretary-General of the Guyana Olympic Association, Mrs. Vidushi Persaud-McKinnon, wished the Guyana Squash Association's Team all the very best at these championships, which will serve as the qualifiers for Pan-Am Games, and so are of great significance, and indicated that she looks forward to the report afterwards. She particularly mentioned the notably strong women's team, comprised of the legendary Nicolette Fernandes and the current Caribbean and National Women's Champion, Ashley Khalil.