The Golden Arrowhead was hoisted in all grandeur on Saturday morning to ring in Guyana's jubilee Republic Day celebration, which will reach its peak today with the customary Mashramani Float Parade in Georgetown.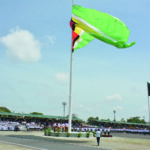 The pre-Republic Day activities commenced with a packed programme of patriotic performances by the Disciplined Services and hundreds of students during the flag-raising ceremony.
Scores of Guyanese culminated at D'Urban Park to witness the symbolic hoisting of the national flag. Onlooking the activities was President David Granger, First Lady Sandra Granger, members of Government and the diplomatic community.
There, an explosion of cultural talents flowed, depicting flashes from the six peoples: the Amerindians, Europeans, Africans, East Indians, Chinese and the Portuguese. The display continued with a medley of dances to depict what Guyana stands for, against a backdrop of popular songs from local artistes. Moreover, the budding oil and gas industry was also depicted.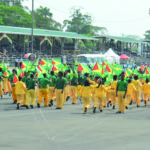 This activity concluded with the raising of the national flag, the Golden Arrowhead as it soared and fluttered as ever before.
Republic Day, commonly referred to as Mashramani, marks the date when Guyana gained its Republic status from which the Constitution of Guyana came into effect shortly after.
On August 29, 1969, the resolution was passed in Parliament that Guyana would become a Cooperative Republic on February 23, 1970.
Celebrations will continue today with the customary Mashramani Float parade. Revellers will be parading the streets of Georgetown all bedecked in their intricate costumes and floats, and patrons will be sure to line the route to catch a glimpse.
The idea of Mashramani is mostly viewed as a day when reflections are made on the achievements in various sectors of the economy. As such, the growth in agriculture, health, mining and other fields are highlighted. Other stakeholders would also join the celebrations and experiences throughout the day.
This year, the Social Cohesion Ministry earmarked some $219 million to host various events for Guyana's Republic Day celebrations.