…Tournament continues this weekend
Golden Grove and Dolphin Secondary are the latest schools to taste victory in the Milo Under 18 Schools football tournament, on Thursday night.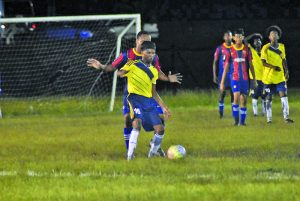 A 3-3 score at the end of regulation time, during the first game between Golden Grove and Buxton, meant that the game would have to be decided from the penalty line. There Golden Grove held their nerve to prevail 4-2 with kicks from the penalty mark.
Earlier in the contest Buxton's Omari Edwards was the first to add his name to the scoresheet with a strike in the 23rd. Six minutes later, Golden Grove equalized through Kellon Croal's efforts. Croal completed his brace in the 34th, ensuring that Golden Grove would go into the interval with a 2-1 lead.
Golden Grove's Shamar Walton made it a 3- game, with a goal of his own in the 48; a goal which ignited the Buxton outfit to get going. Two minutes after Golden Grove extended their lead, Akandy Vanmalson effected a spirited play to bring the score to 3-2. In the 58th, Ovid Brown levelled the scores for a second time in the game, thus sending it to penalties.
The second game of the double header was an intense battle of the 'Smyth street' schools, as Dolphin and Charlestown Secondary, who are closely situated in Georgetown, got down to business.
Following an early goal from Brian Burnette in the 15th minute, Dolphin went on to school their opponents 5-1. Jaquan Cole found the back of the net just before half time to give Dolphin a 2-0 lead and when they returned to the pitch, Cole extended the lead to 3-0, with his second goal in the 40th.
Gerry Bernette got going in the 47th, adding to Dolphin's tally and it was at that interval that Charlestown were finally able to muster a reply.
Mickelle Andrews was the lone marksman for Charlestown, scoring in the 58th. Gerry Bernette ensured that Dolphin would have the last hurrah, however, adding another goal in the 64th to bring the final score to 5-1.
The Milo Schools' football action will continue today, Saturday, June 25th at the Ministry of Education (MOE) Ground, Carifesta Avenue, Georgetown.
Four games are lined up for today's proceedings, with Carmel Secondary and Christianburg Wismar Secondary going head-to-head in the first game at 12:30 pm. A West Ruimveldt Secondary and Marian Academy contest will follow at 2pm, while Uitvlugt Secondary and Cummings Lodge Secondary do battle from 3:30pm. The final game today will see North Georgetown Secondary and Canje Secondary locking horns from 5pm.
Another four games are scheduled for Sunday, June 26th, 2022, with Annandale Secondary, Golden Grove Secondary, Dolphin Secondary, New Central High School, Tucville Secondary, Friendship Secondary, Lodge Secondary and President's College billed for action.