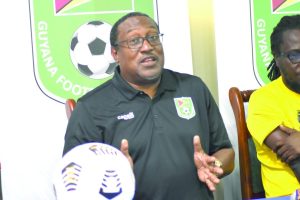 Guyana's senior men's national team, the Golden Jaguars, will take part in two training camps in Jamaica and the United States ahead of CONCACAF Gold Cup Prelims in June.
Head Coach Jamaal Shabazz and the local squad are set to depart Guyana on Friday, May 26, for Jamaica, where they will join the overseas-based players for an intensive training camp until June 5. The team will then leave the Caribbean nation for a second camp in Miami, which concludes on June 15.
The Golden Jaguars will play their first match against Grenada on Saturday, June 17, at the DRV PNK Stadium in Fort Lauderdale, Florida. The 2023 Gold Cup Prelims are being held between June 16 and 20, and this is Guyana's second appearance in the regional competition.
In an interview at a recent KFC Elite League match, Head Coach Shabazz acknowledged that Grenada is a formidable team, but quickly added that he is making adjustments in order to strengthen his side for the much-anticipated match.
"We are very aware that Grenada is a different challenge. This is a tier one team that was playing the big dogs recently. They have a lot of players coming out of England. We're trying to bring in one or two players to strengthen the squad, yet keep the chemistry and the camaraderie and the discipline that we had in the last quarter; so, yes, we're constantly looking to tweet things to improve."
The locally-based players will be chosen from 10 clubs presently participating in the KFC Elite League, which kicked off in early May.
The tournament gives the national players a unique training opportunity, and the coaching team a chance to see them in a competitive setting before the CONCACAF Gold Cup Prelims matches.
"This is a unique preparation. We did not want to take the players away from the club, because this Elite League edition has promotion and relegation, so we opted to view the players train with the clubs full-time. They play in the league and we scout from them playing and training with the clubs, and then we select a final squad," Shabazz shared.
He further explained that a 23-member team of experienced and young players will represent Guyana at the tournament.
"The good thing is that players playing for their clubs will get a chance to have some games under their belt…which will be better than just training, training, training. We still have to decide on one or two players. There're still some minor details to work out in terms of selection…we're going to call together twenty-six players, and then out of that twenty-six we'll choose the final twenty-three."
Guyana's senior men's national team qualified for the CONCACAF Gold Cup Prelims following a second-place finish in Group C of League B in the 2022–23 CONCACAF Nations League.