…Agri Minister suggests higher tariffs
By Lakhram Bhagirat
One day after the National Agriculture Research and Extension Institute (NAREI) Chief Executive Officer announced that it is completely restricting the importation of citrus fruits into Guyana, Agriculture Minister Noel Holder told Guyana Times that there is no Government-imposed ban on citrus fruit importation.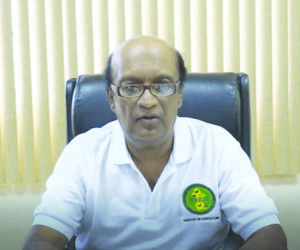 According to Holder, this would not be possible since Guyana is a signatory to the Caricom Single Market and Economy (CSME) and World Trade Organisation.
"The WTO states that you have to bring in things from outside but you can put a tariff. The CSME has a common external tariff which all of Caricom imposes on foreign goods and that can be used on these things. We are not banning anything," Holder explained to this newspaper.
The news that there was a ban on the importation of citrus fruits did not go down well with the business community, which on Saturday criticised the decision.
But Holder quickly quelled those criticisms saying that the Ministry does not have the authority to impose a ban.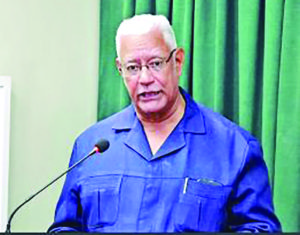 "The Ministry of Agriculture doesn't ban anything. We do not have that authority. Nowhere in the law permits the Ministry of Agriculture to get involved with these things. You have to get licenses to bring in these things and the Ministry of Business offers licenses. NAREI is part of the Ministry of Agriculture, we don't give licenses for anything. NAREI NPPO (National Plant Protection Organisation) has the authority to refuse stuff coming in that has not met the sanitary and phytosanitary requirements and that is entirely different from banning," he added.
In order for agricultural products to be imported into Guyana, one has to have the requisite documentation which includes a pest risk assessment to determine that the produce is free of all pests and diseases. Besides that, importers have to be licensed.
Further, the Minister explained that Caricom produces citrus as well and with the CSME agreement in place, Guyana has certain obligations. He further related that higher tariffs on citrus would be a possibility rather than a complete ban.
NAREI's announcement
NAREI's CEO, Dr Oudho Homenauth told Guyana Times in an interview on Friday that the organisation is restricting the import of all citrus fruits. This move, he noted, was in keeping with the policies of the Government of the day. He further related that the ban on citrus has always been in place.
However, the Minister said that as far as he is aware, there has been no ban and one was never in place.
"I would have to clarify it with Dr Homenauth because if there is some phytosanitary reason why it can't come in then it [the ban] will be there. I won't know that until I speak with him….A person could be bringing lemons from the US and bringing it into Trinidad and then to Guyana and it comes as a Trinidad product so it has to be very carefully monitored to ensure the origin is Caricom and if it is not then the necessary duties are paid but there is no ban. If the necessary certificates are not presented then it would not be allowed entry because we have to protect our agriculture, can't be bringing foreign diseases in this country," Holder said.
However, importers are contending that the ban, which seemingly came into effect recently, poses a threat to their business since consumers require a variety. While they are cognisant of the fact that the local citrus industry can adequately supply the local market, they are of the opinion that variety creates an even playing field.
On Saturday when Guyana Times reported the ban, many persons took to social media expressing mixed reactions. Some were all for the ban explaining that the local market has the ability to cater to the demands while others were expressing disappointment over the lack of variety. The common concern was that the local citruses are inconsistent in taste and size as well as price.
Moreover, many suggested that the Government implement consistency mechanisms so that it could alleviate the concerns of those on the fence over the ban.