…wants to build premier service
With the aim of establishing an Air Corps that is the "go to" in the Region, the Guyana Government is currently looking to integrate the civil aviation sector and the Guyana Defence Force's Air Corps with the aim of commercialising the service.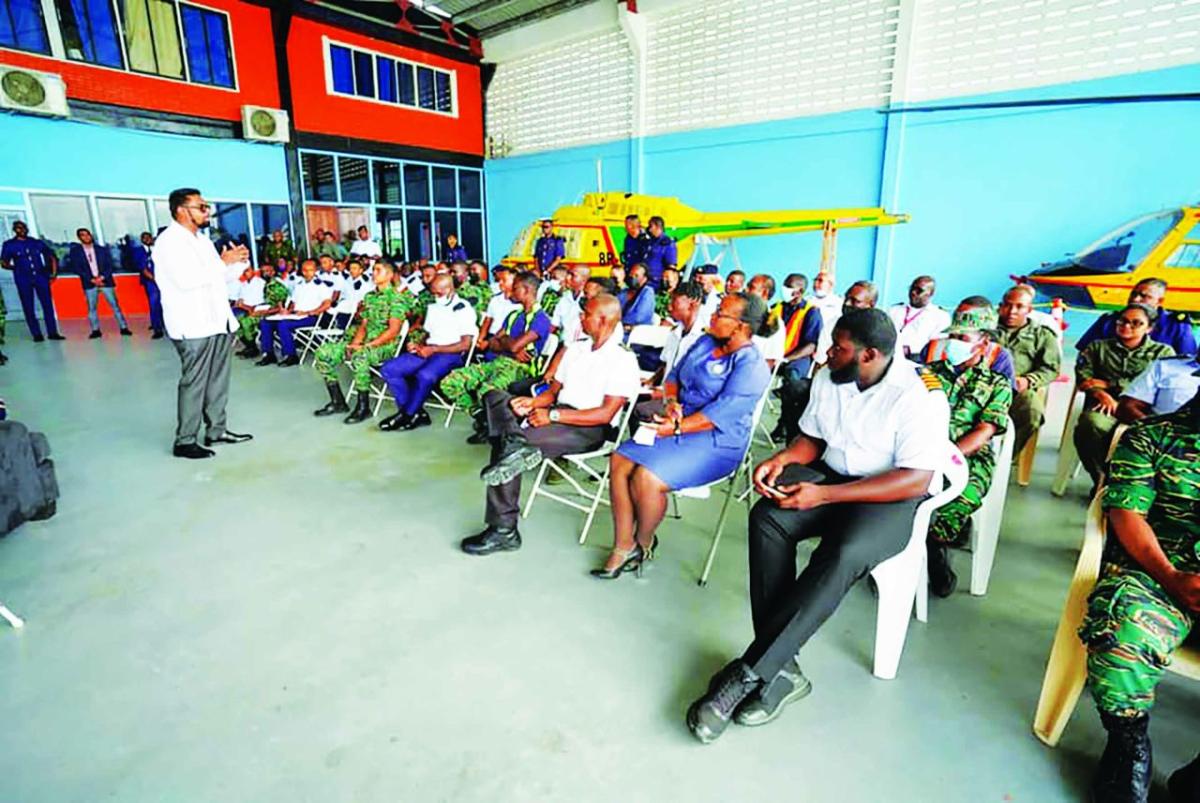 This was revealed by Commander-in-Chief of the Armed Forces, President Dr Irfaan Ali while addressing the ranks of the Air Corps at the Air Corps Hangar in Timehri on Thursday. He explained that his visit was to conduct an on-the-spot analysis in order to get an understanding of how integrated things were within the Air Corps and identify the gaps that have to be filled to bring the entity up to world-class standard.
According to the Head of State, his Government will work to ensure that the Air Corps becomes the best in its class, providing training for persons transitioning into the aviation sector.
"I want Air Corps Guyana to be the premier Air Corps in the Region. This must be the go-to Air Corps for any country in the Region seeking training or seeking to build their capacity… This will now be the new training ground for people who will transition into civilian aviation in the future, having the technical skills and technical capability. This has to be the premier institution," he stated.
This will necessitate the establishment of an academy. Additionally, the plan is to build a skills-development programme that can be integrated into Government's scholarship programme, the national training programme and ultimately, integrated with the regional programme.
President Ali noted that he wanted to be able to go to regional Heads of State and present a detailed plan on how Guyana intended to transition its Air Corps, in order to get their commitment that they would utilise the academy for all their aviation training as well as flying needs.
To this end, the Commander-in-Chief pointed out that the standards within the Air Corps would no longer be for the GDF, but would be tailored to be "best in class". However, he pointed out that this would require the involvement and cooperation of all stakeholders.
"So, today is about working to get to those standards, it's about understanding each of you and where you were thinking, what you're thinking and how you're thinking because frankly speaking, we can't make this investment if people are not ready to invest their future with us too. It's a two-way street, so we have to understand the gaps, and we have to work on filling those gaps. So, we are going to come up with an action plan today," he informed the ranks.
Commercial arm
Another major area the Guyana Government is currently looking at is whether to establish a military-operated commercial arm of the Air Corps, and if so, how to structure it. It is considering whether this arm should be only for emergency rescue missions, national support or the movement of goods and services.
"That decision has to be made, because in building what I'm imagining has to be built, requires a lot of resources. We can't keep pumping capital resources into it. We have to have a revenue stream to support what we're going to do also," Ali posited.
On this note, the Guyanese Leader stated that a decision would also have to be made on the equipment that must be invested in to carry out this service.
"We can't invest in the King Air and it's on the ground 90 per cent of the time. The King Air must be a revenue earner for us. So, if there is VIP movement…, the King Air must be able to be deployed. The King Air must be able to be deployed if the oil sector has people who want a private jet going out. And it's going to be profitable," the Head of State asserted.
Currently, the GDF has a King Air 350 Beechcraft. Back in 2020, a large sum was budgeted for the maintenance of the King Air to increase its aerial operational capacity.
The King Air Beechcraft is being upgraded to seat a maximum of eight passengers.
President Ali said that if operated efficiently, it could also be used to conduct commercial flights for the local oil and gas sector as well as the broader business community. He noted that this would be an excellent alternative to chartered flights.
"So, this is the type of discussions that we want to have… This is about us making some important decisions as to where we want to position it. In my mind, I want to position it as the best Air Corps in the Region, and we're already making the investment in human resources. We're spending a lot of money," he contended.
Moreover, with the GDF currently in the process of acquiring a chopper, President Ali said consideration would also be given as to how to integrate that effectively into this new plan.
Chief of Staff of the GDF, Brigadier Godfrey Bess; Director General of the Guyana Civil Aviation Authority, Lieutenant Colonel Egbert Field (Retired); Chief Executive Officer of the Cheddi Jagan International Airport (CJIA), Ramesh Ghir, and other Government officials and senior ranks and officers of the GDF and the Air Corps were also at the engagement on Thursday. (G8)