…will be competing with Guyanese for already limited jobs – trade unionist
Despite having thousands of Haitians enter Guyana unaccounted for last year, the coalition Government has sought to extend the time that Haitians spend in Guyana to six months.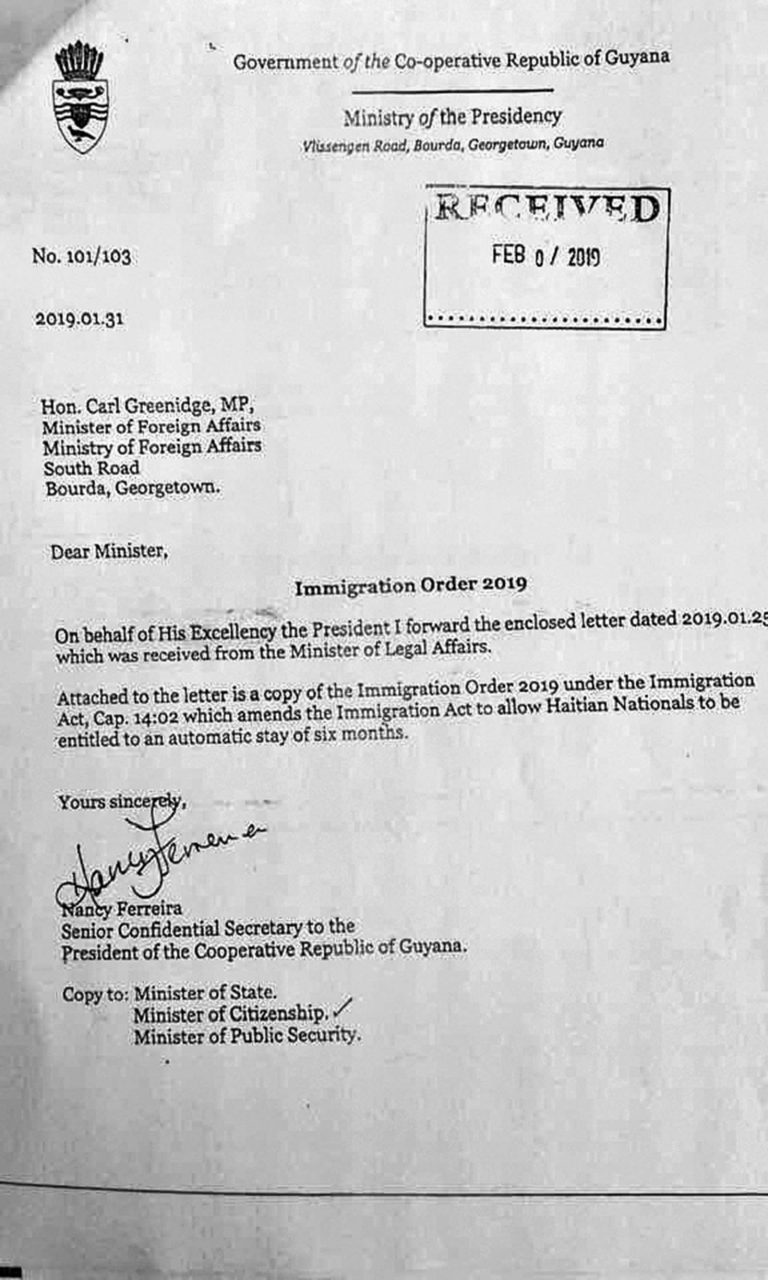 This was detailed in a letter dated January 31, 2019, addressed to Foreign Affairs Minister Carl Greenidge and copied to Minister of State, Joseph Harmon; Citizenship Minister Winston Felix and Public Security Minister Khemraj Ramjattan.
The correspondence sent by the President's Senior Confidential Secretary was titled "Immigration Order 2019". It noted that under the Immigration Act, Chapter 14:02, amendments were made to "allow Haitian nationals to be entitled to an automatic stay of six months".
The amendment was made by Legal Affairs Minister Basil Williams.
This change in the immigration policy comes on the heels of the unaccountability of over 3000 Haitians in Guyana.
Already a number for persons are complaining about Haitians being employed at hospitals and in other sectors but being unable to speak proper English. This comes at a time when thousands of Guyanese have lost their jobs and are seeking employment but to no avail.
Speaking with Guyana Times on Wednesday, a trade unionist questioned the decision by the Government to grant the extension.
"What will they be doing in Guyana? How will they maintain themselves for six months? They obviously have to work and this means that they will be competing with Guyanese for already limited jobs," the trade unionist added.
Haitian migration has long been a troublesome issue.
Meanwhile, at a meeting of the Parliamentary Committee on Foreign Affairs back in June 2018, the alarming statistics revealed that thousands of Haitians and Cubans are not only overstaying their time in Guyana but could not be accounted for.
On May 23, 2018, Minister Felix wrote the Clerk of the National Assembly and provided statistics of the eight main groups of foreign nationals, including Haitians, with the largest arrival and departure figures for the past five years.
The figures showed that Cubans accounted for the largest influx of foreign nationals, followed by Haitians and then Venezuelans after which were Brazilians, Indians, Bangladeshis, Dominicans [from The Dominican Republic] and Chinese.
It was noted that as of April 30, 2018, a total of 1238 Haitians arrived in Guyana, but only 85 left the country. In 2017, 3515 Haitian nationals entered Guyana and 291 left, while the year before out of 722 Haitians who came here, only 451 were on record as leaving. There were 770 Haitian nationals who arrived in 2015, 227 in 2014 and 188 in 2013, but only 136, 113 and 99 left the country respectively.
Chairman of the Parliamentary Committee, Opposition Chief Chip Gail Teixeira had pointed out that despite Haitians as well as Cubans – 22,520 of whom arrived but only 16,350 departed – speaking a foreign language, they seem to have gotten "lost".
"Both groups are distinctive in terms of language and yet they seem to be lost away," Teixeira stated.
However, the Citizenship Minister had suggested that the thousands of unaccounted-for foreign nationals must have left the country through `backtrack'. Felix had also accused Teixeira of "crying wolf in a crowded cinema" when it comes to the large numbers of Cubans, Haitians and others overstaying their time here and the risk of human trafficking.
In the meantime, the Opposition's People's Progressive Party (PPP) had claimed that the coalition Government is granting thousands of Haitians and Cubans citizenship, so they get voting rights for the impending General and Regional Elections. But Government had rejected this.