…must first sign 'confidentiality undertaking'
The Guyana Government is currently searching for partners to finally complete construction, as well as to operate the casino at the Marriott Hotel in Kingston, Georgetown.
The US$58 million project completed in 2015 last was advertised as a state-of-the-art, energy efficient edifice, complete with hotel, casino and entertainment complex.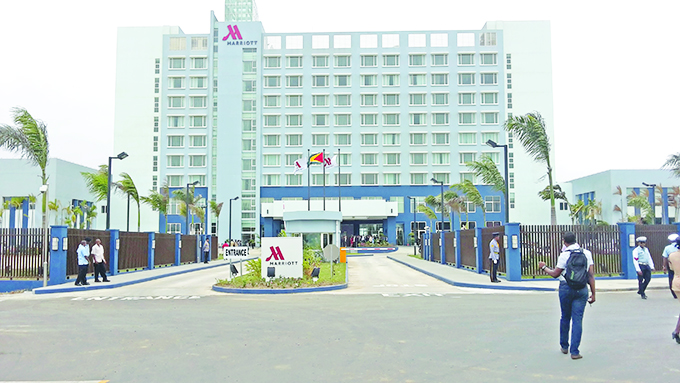 The project was completed under the previous Administration and was railed against by the then political Opposition, A Partnership for National Unity, Alliance For Change (APNU/AFC), which has since been elected to office.
According to requests for Expressions of Interest (EoI) advertised locally, Atlantic Hotels Inc – the special purpose, Government owned company that set up to construct and own the Marriott Hotel – has invited interest parties to present proposals for the completion and operation of the facility.
According to the advertisement, "AHI is seeking Expression of Interest from reputable organisations/individuals to complete the construction, outfitting and operating its casino annexed to the Marriott Hotel…"
The Government owned company says it "is interested to receive EoIs from either persons or companies, either individually or as part of a joint venture/consortium."
AHI said preference will be given to submissions by applicants who are established in the gaming and entertainment industry.
It was also pointed out that in selecting the lessee, "AHI will consult with Marriott."
Those interested in partnering with AHI in order to complete constructing and to operate the casino are being asked to submit design proposals, proof of financial viability, a financial plan and are being asked to sign on to a 'confidentiality undertaking' on registration.
Government has in the past publicly indicated its intention to sell off the multimillion-dollar tourism flagship project of its predecessors but acknowledges that in order to make the project attractive, it will have to complete the casino.
The project was mired when the then Opposition APNU/AFC vehemently opposed the construction of the hotel over its cost, debt servicing and general lack of transparency.
Despite the controversy, the hotel was opened to begin its phase one operations.
A second component of the project was advertised as entailing the construction of a 29,000 square foot entertainment complex that will house a casino, restaurant and nightclub; all of which will be privately operated, separate and distinct from the hotel and its operators – Marriott International Inc.