Constitutional crisis
…PPP GECOM Commissioners vow not to be intimidated
With less than two weeks remaining before the country heads into a constitutional crisis, the David Granger-led administration on Friday shot down a People's Progressive Party (PPP) proposal to have elections held before the current voters' list expires on April 30, 2019.
The Head of State led the Government delegation, comprising of Prime Minister Moses Nagamootoo, Chief Whip Amna Ally, Minister of State Joseph Harmon, Attorney General and Legal Affairs Minister Basil Williams, and Natural Resources Minister Raphael Trotman, to meet with Chairman of the Guyana Elections Commission (GECOM), Justice James Patterson, and Commissioners Bibi Shadick, Sase Gunraj, Robeson Benn, Vincent Alexander, Charles Corbin and Desmond Trotman, as well Chief Elections Officer (CEO) Keith Lowenfield and Deputy CEO Roxanne Meyers.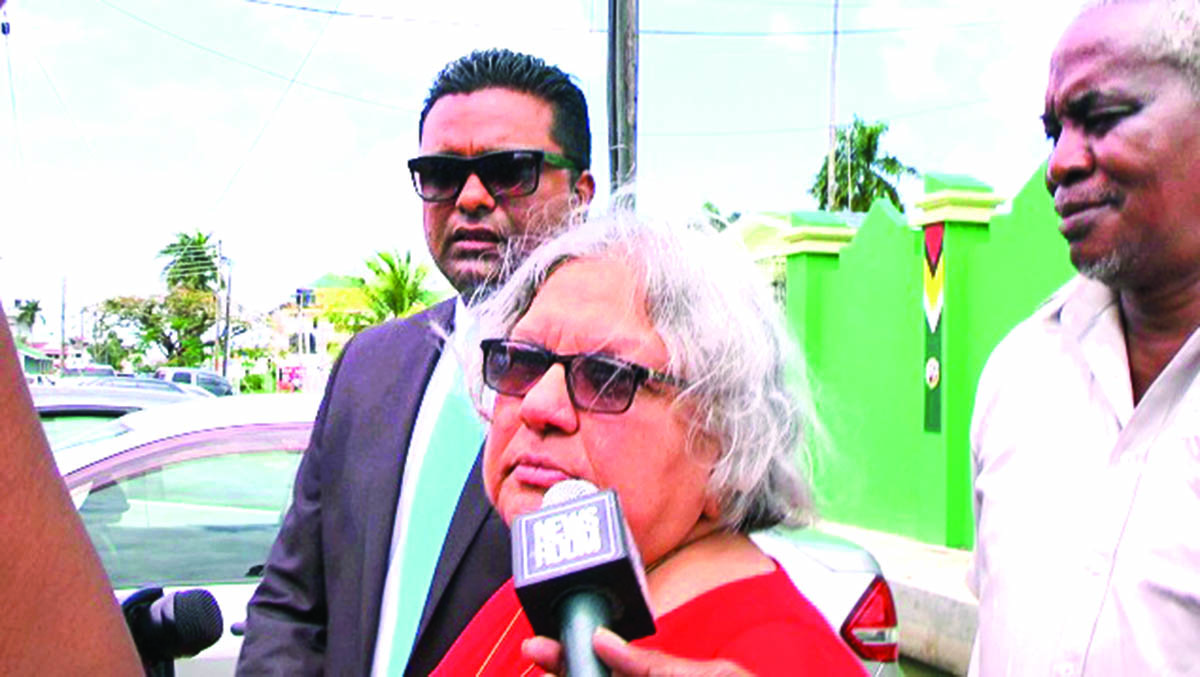 During the high-level meeting, held at the Ministry of the Presidency, Shadick – an Opposition-nominated Commissioner – submitted a proposal outlining a work plan for the holding of elections at the earliest possible time; that is, April 29, 2019. This is one day before the voters' list expires.
However, despite making a commitment to have elections at the earliest time possible, the proposal was not accepted by Government.
"I went trying to help the President to come to a decision, [so that] he could engage the Leader (of) the Opposition to go to Parliament… The President seemed willing to accept it, but Basil Williams intervened and said, 'No, we cannot accept a document that didn't come from the Commission; that came from (one side of the Commission)'," Shadick explained.
Drawing board
Meanwhile, President Granger has sent GECOM back to the drawing board, saying after the meeting that the elections body did not offer him proper guidance to announce a date for the polls.
"We did not receive the sort of guidance that we need to enable me, as president, to make a proclamation to actually announce a date, but we have kept the door open, and we have asked the Guyana Elections Commission to go back to the drawing board to examine how quickly and how easily they could arrive at a consensual position — merge the various approaches; ensure that the preparations for elections which have already started continue, and that we could have an agreement as quickly as possible. So as far as the Government side is concerned, this has been productive, it has been edifying, and we feel we have the basis for moving quickly towards having elections in Guyana," the President said.
According to the Head of State, if the elections body is to resolve or reconcile the different points of view which exist in the Commission now, the body would be able to advise guidance to ultimately set elections at the earliest date possible.
However, Shadick opined that the two-hour-long, high level meeting was no different from a GECOM statutory meeting, since "the song about house-to-house registration is being sung" and there was no room for a way forward that departs from house-to-house registration.
In fact, she noted that one Government-nominated commissioner, Vincent Alexander, had indicated during the meeting that elections could be postponed until February next year.
But while speaking with media operatives following the meeting, Commissioner Alexander posited that a condensed and contracted house-to-house registration process could see the exercise wrapped up by November this year.
Not be bullied
Opposition-nominated commissioners, during a press conference on Friday, contended that they will not be bullied into accepting anything other than the constitutionally mandated elections.
With the March 21, 2019 deadline less than two weeks away, Opposition Leader Bharrat Jagdeo had indicated that his parliamentarians will vote for an extension of the constitutional deadline if Government commits to holding elections before April 30.
But GECOM is pushing for house-to-house registration, and according to the PPP Commissioners, the Chief Elections Officer indicated during Friday's meeting that he has no work plan as yet on the way forward.
Nonetheless, Commissioner Robeson Benn noted that they will not be intimidated into changing their position; that is, elections should be held within the constitutionally mandated timeline.
According to the PPP Commissioners, Friday's high-level meeting was meant to pressure and intimidate them into going along with an orchestrated plan to delay the hosting of General and Regional Elections by conducting house-to-house registration.
In fact, they asserted that the utterances of the ministers who were part of the Government's delegation during the meeting cast them as being the "spoil sports" because they refused to support the majority decision of house-to-house registration.
Commissioner Gunraj maintained that they will not be held hostage to toe the line, as he went on to reject accusations that by walking out the GECOM statutory meeting on two occasions, he and his two other PPP-nominated Commissioners are actually pushing towards the looming constitutional crisis.
"At both of those meetings that we walked out of, it was quite obvious that there was no discussion planned or ongoing about the holding of elections, and I maintained that we have an obligation to hold elections, and we will not be held hostage in any meeting to discuss any matter that is not touching or concerning or directly related to the holding of elections," Gunraj insisted.
The commissioners further indicated that they refuse to be part of such meetings in the future.