Delayed CJIA expansion
…threatens legal action against Chinese company
With the Cheddi Jagan International Airport (CJIA) expansion project woefully delayed, the Government of Guyana has not only rejected China Harbour Engineering Company's (CHEC) demands for more money but also threatened legal action against the company.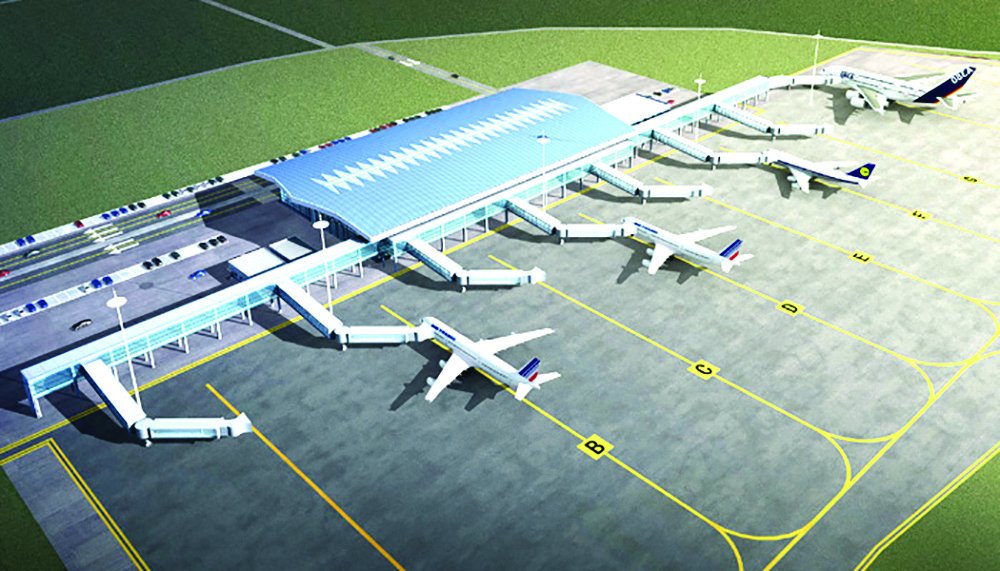 In a letter seen by this publication, Attorney General Anil Nandlall wrote to CHEC Chairman Lin Yizhong reminding him that his company has failed to deliver the works it was contracted to do, nine years after the project contract was first signed.
The works CHEC was supposed to deliver include the construction of a new terminal building, an extension of the runway from 7500 feet to 10,800 feet and eight passenger boarding bridges. Nine years later, however, the Chinese company has defaulted on these obligations.
Nandlall in the letter called the company out for "failure to remedy all defective items for the entire project, after the issuance of notice to correct, as per FIDIC-Plant Design and Build Clause 7.6: Remedial Works; failure to achieve substantial completion… failure to Pass Tests on Completion and failure to complete the whole of the works within the time of completion for the works, as per Clause 8.2: Time for Completion and Clause 8.6: Rate of Progress."
"Our dissatisfaction with your performance and your breach of contract have already been reported by our Ministry of Public Works to the Chief Executive Officers of the Export-Import Bank of China and by our Prime Minister to Mr Wang Tongzhou, Chairman of China Communications Construction Group, your parent company," Nandlall also wrote.
This newspaper had reported last month that following demands by the Government, CHEC submitted a revised work plan for the project that still left out key components from the original contract. Among those components is the extension of the CJIA runway and an increase in capacity for eight standing aircraft.
Despite these missing components, however, CHEC had requested more money in its revised work plan in order to complete the project. In his letter, Nandlall made it clear that the Government rejects any demands for additional payments and warned that he would advise legal action be taken against the company if its contractual obligations are not met.
"In the circumstances, I am to inform you that we reject all and any unilateral demand for additional payments and we further demand specific performance of the said contract in the manner provided for and contemplated by the said contract," Nandlall wrote.
"Any failure to comply with the aforementioned demand will result my advising my Client to seeking legal remedies and to forebear from any engagements with your company in the future," the company was warned.
The project
The project was supposed to have been completed since December 31, 2018, under the former A Partnership for National Unity/Alliance For Change (APNU/AFC) Government, but has now been taken over by the People's Progressive Party (PPP/C) Government in an incomplete and downgraded state.
When the coalition Government came into power in 2015, the project was put on hold, but after discussions between former Public Infrastructure Minister David Patterson and CHEC, it was later announced that the project would be continued but a number of downgrades were done to the design.
Some $138 million of the allocated costs was funded by the EXIM (Export-Import) Bank of China, while $12 million was spent by the Guyana Government. It was not expected to surpass that sum, but under the former APNU/AFC Government, taxpayers had to stand additional expenses.
The CJIA, in its downgraded design expansion, has four less air passenger boarding bridges for arrivals and departures than the initial eight; a 450-seat departure area; escalators and elevators; in addition to an incomplete extended runway, which was supposed to measure 400 and 690 metres at the respective ends. An old terminal building that was marked for cargo was revamped, and only one of the new sections was built.
Meanwhile, a new apron that was supposed to support the additional four air bridges is non-existent. There is also no space for enough duty-free shops, restaurants, car rentals and other facilities.
President Dr Irfaan Ali had toured the CJIA expansion worksite back in September when he read the Riot Act to the contractor, consultants and other officials. Among his concerns had been the deviation from the terms agreed upon in the fixed-price contract.
CHEC was therefore tasked with submitting a revised work plan that included the original design, such as facilities for eight air bridges, an extended runway, taxiways, and aprons with capacity for eight standing aircraft. Additionally, it was expected that CHEC would make provision for the reconstruction, not renovation, of the terminal building. (G3)