…$820M budgeted to build capacity among Amerindian youth – Sukhai
Government has injected a significant $820 million to train and build capacity among indigenous youth, under the recently resuscitated Community Support Officers (CSO) initiative.
This was announced by Amerindian Affairs Minister, Pauline Sukhai during her budget presentation to the National Assembly on Friday. The programme is expected to present youths from hinterland communities with all the necessary resources to develop their skills.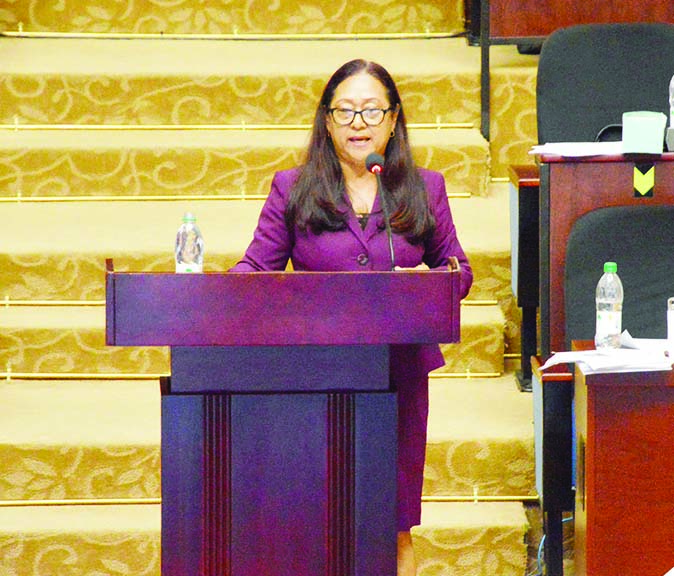 "In this year, the training component of the CSO programme has been budgeted and $820 million is going towards building capacity and empowering Amerindian youths. That is what you call interest in youths. That is what you call delivering on our commitment to young people," the Minister shared.
After taking office in 2015, the APNU/AFC had dismantled this programme and replaced it with the Hinterland Employment and Youth Service (HEYS) initiative. However, Sukhai revealed that none of the 2500 enterprises under HEYS currently exist.
"They have claimed that 2500 businesses and enterprises have been created. It has been documented as such. When you go into the communities, you cannot find even more than one or you find zero…There is no programme. How many businesses and enterprises exist in Kako, Waramadong, Wara Water, Kato, Kaibarupai, Tuseneng, Shulinab? They can take their time in Opposition now and go with lenses or microscopes to examine where those fantom enterprises and businesses exist," she elucidated.
Opposition Member of Parliament Vincent Henry told the National Assembly that Government should have continued the HEYS initiative, instead of resuscitating the CSO programme.
But Sukhai clarified that apart from the programme's failure, there was correspondence from former Indigenous People's Affairs Minister, Sydney Allicock to former Finance Minister, Winston Jordan indicating that they had already planned to discontinue the initiative.
"They claim that we have not renewed the HEYS programme, but there is correspondence from the then Minister writing to the Minister of Finance stating that in 2019, there was no more money to address the HEYS programme and he had to disconnect all the staff in the region and the entire programme and that he was going to keep four staff to ensure they tie up the documentation for that programme."
Meanwhile, Sukhai called out the former Government for failing to increase the presidential grant to Indigenous communities, and also creating a series of red tapes to challenge these stakeholders from collecting their monies. Due to this, she said 40 per cent of communities were unable to access the grants.
"They put on conditions and requirements for accessing the presidential grant, that only a mere 40 per cent of the communities and villages across the hinterland were able to access those funds to stimulate some form of economic activities. That is a complete shameful act," the Minister lamented.
She said upon taking office, the PPP/C distributed these funds to almost all communities and removed the conditional requirements. Another allocation of a whopping $1.73 billion is also set aside for COVID-19 support.
"In the last three months, almost all the villages in the hinterland, 213 Amerindian villages have accessed the presidential grant fund. We have $300 million, where another 220 Amerindian villages and satellites will receive those grants to stimulate their economy. To complement the presidential grant fund, we have provided $1.73 billion to support Amerindian communities, villages and satellites to withstand and mitigate the harmful and negative impact from the pandemic."
Additionally, she slammed the Opposition for failing to visit these communities when they were in power, noting that this contributed to their removal from office during the 2020 elections.
"Every single village you go to, one of the most complaint you get is that within the last five years, they have not seen any Minister coming to any community…The result of the elections was glaring. Amerindians are sensible Guyanese. Amerindians have been educated for 23 years under our Government and they can judge and they have judged you well." (G12)