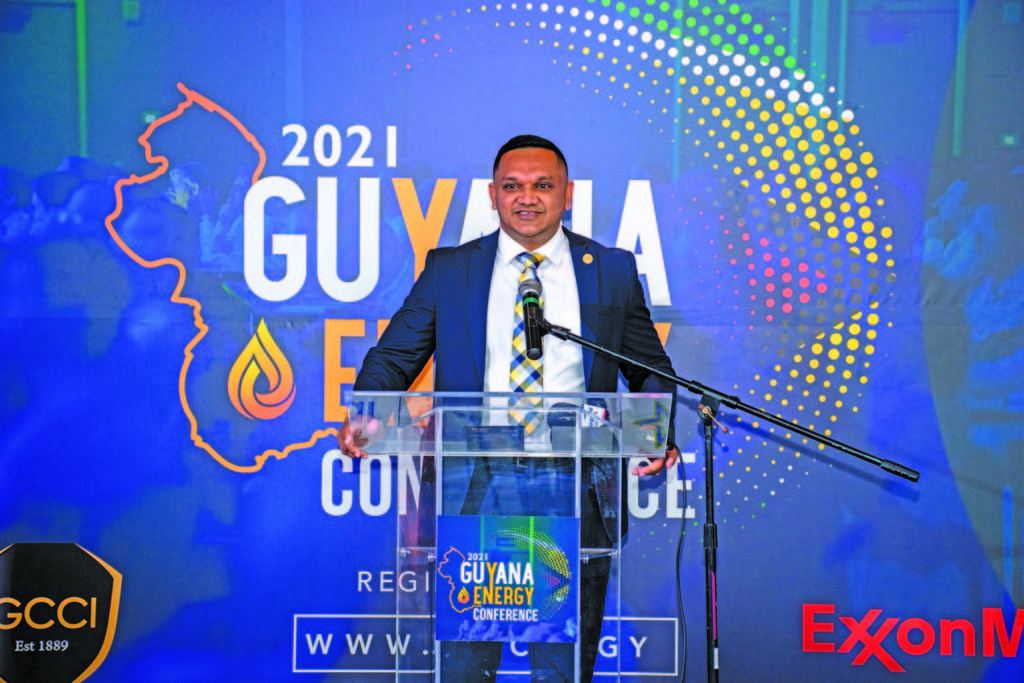 Natural Resources Minister Vickram Bharrat on Monday underscored Government's efforts in bringing the gas-to-shore project to fruition, noting that it will be a fulfilled promise to the people of Guyana.
Speaking during the Guyana Energy Conference and Exhibition, he noted that the Government is moving forward through tangible efforts in order to secure cheaper power for the population.
"We have already started moving on it and we are not only speaking of the project. We have already taken tangible steps to ensure that we move forward with that. We're hoping that within the next three years, Guyanese can enjoy cheaper power," the Minister highlighted.
According to Bharrat, the aim is to provide a suitable economic climate for small businesses to develop into larger enterprises.
"There are many small businesses that can benefit and grow to meet medium and large scale cause the opportunity will be there…When these things happen, it benefits our country and benefit every single Guyanese."
It was clarified that while these projects have raised discussions on local content, this translates far beyond the oil sector. Bharrat noted that local content should be intact across all industries in the country so that people can improve their lives.
"We know local content has been trending thing now. We're happy that it is because our Government since taking office has put, prioritised local content because we believe that Guyanese should benefit from our natural resources…Local content is not only about the oil and gas sector. Local content is about every single sector, how Guyanese can benefit, how Guyanese can participate in these sectors, how we can enjoy a comfortable life," he stated.
The gas-to-shore project is an ambitious initiative that will see gas from the Liza field offshore Guyana being pumped onshore to generate power.
The Government has set an ambitious timeline of 2023 to complete the transformative gas-to-shore project, the main objective of which is to transport sufficient gas from the Stabroek Block's petroleum operations to supply some 200-250 megawatts of energy to the national grid, leading to a significant reduction in electricity costs.
Government has identified the former Wales Sugar Estate, West Bank Demerara (WBD), as the site for establishing the power generation plant, a location that Bhagwandin, a local analyst, said makes economic sense as it will open avenues for greater development.
The President Ali-led Administration believes that the gas-to-shore project will transform Guyana's economic landscape, bringing tremendous development for all. Additionally, the Government is also mulling building a Liquefied Petroleum Gas (LPG) plant at the site that will have the potential to cater to the energy needs of the people.
President Dr Irfaan Ali had previously said the landing of the gas-to-shore pipeline in Region Three would lead to "big industrial development taking place there that is linked to not only power generation and a power plant." He also said the investment on the Demerara River's shoreside would create massive opportunities and a trickle-down effect.