…laments absence of legislation accompanying policy
The Local Content Policy that was completed by the previous Government but criticised for its reporting and transparency loopholes, will be buttressed by legislation as the new Government seeks to draft laws to better regulate the sector.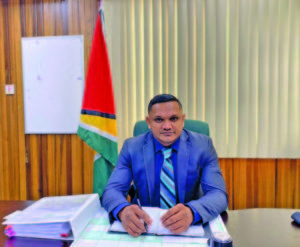 In an interview with this publication, Natural Resources Minister Vickram Bharrat explained that in the near future they will go to tender and seek a consultant who can work on drafting local content legislation that is in line with international best practice.
"The policy was drafted under the previous Administration, which we criticised a lot. So not because we are in power now and I am the Minister, I would accept it. Our position still holds, that there must be disclosure of everything."
"That is why we're bringing in an expert very soon to start working on draft legislation, to start working on draft legislation. Because there was no draft legislation before, there was just a policy document. And a policy document that was slanted more to the company than Guyanese," Minister Bharrat said.
Bharrat emphasised that the contract for a consultant to help draft local content legislation would be subject to a tender, a far cry from the process used to select United Kingdom (UK) consultant Dr Michael Warner. Warner was chosen to draft the policy from a process of restrictive tendering.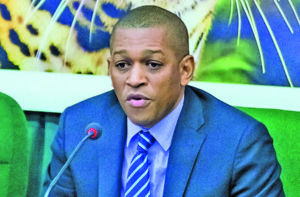 The Department of Energy had released the final Local Content Policy earlier this year and among its provisions is that it also allows operators to be compensated for local content expenditure under cost recovery.
According to the policy, operators have to consider supporting Guyanese in accessing the procurement process and international partnerships, developing skills, quality standards and certification, as well as "access to finance to develop capacity for Guyanese suppliers."
According to the policy, the operator is obligated to provide to the department, a list of contracts it is expected to tender over the forthcoming half year, as well as the dates when they will invite expressions of interest.
As part of its reporting, operators will also have to provide figures of how much money they spent in Guyana's economy from expenditure on services as well as goods. Another feature of the policy is that the operator has to describe its plans for supporting the development of local suppliers.
The Irfaan Ali led-administration had signalled that it would be engaging in what has been described in other progressive jurisdictions as "Citizen Participation" on the Local Content Policy.
Only last week, Vice President, Bharrat Jagdeo, said that Government believes enough has not been done to allow Guyanese to benefit from the development that has taken place.
As such, the government will be going to the people and engage with stakeholders from the various sectors on the draft legislation. He said they will be setting up a working group to lead this initiative and has since reached out to some industry experts for assistance in crafting this legislation so that all Guyanese can benefit from the oil and sector.
Reporting
The Local Content Policy also specifies that the subject Minister will inform the public whether or not an operator has submitted its yearly plans. A Local Content Oversight Committee will be allowed to privately view these plans, in keeping with its functions.
The report sets out the chain by which the operator has to submit reports on its local content compliance. In the first instance, the operator has to submit a half year local content report by August 15.
According to the report, the subject Minister for petroleum then has to review the report. During the review, the Minister may invite the operator in to discuss aspects of the report or make adjustments going forward. The operator will also have to submit an end of year local content report by February 15, which will also be subject to review by the Minister.
The operator is also obligated to present local content plans on dates specified in the report. For instance, the operator has to submit its proposed local content plan by November 1, after which the Minister has to issue an invitation within 20 days and meet with the operator. The operator then has to submit a final local content plan within 21 days after this meeting.
The report specifies that the subject Minister has to approve this local content plan. The Minister has to send either a letter of approval or rejection within 14 days of receiving the final plan. In case the plan is rejected, the policy says, the Minister has to invite the operator to a meeting.
There is no mention of the operator's entire local content plan being released to the general public. Rather, the Minister is only mandated to disclose excerpts pulled from the operator's half-year and end-of-year reports.
"In all other cases, information submitted to the Minister in operator local content plans and appendices and half year and end of year local content reports shall remain confidential to the operator and Ministry."
Rushed job
Vice President Bharrat Jagdeo, who was Opposition Leader at the time the policy was finalised, had always warned that the policy was a rushed job and should have had with it the accompanying legislation.
And the Georgetown Chamber of Commerce and Industry (GCCI), which was consulted by the department prior to the policy being completed, has said that they always recommended full transparency to be enshrined in the plan.
There have also been criticisms that the overall plan is not robust enough in terms of securing work for Guyanese workers and suppliers, nor when it comes to penalising oil companies for failure to adhere to the guidelines. (G3)