Acknowledging that a safe and secure environment is needed in order for businesses to flourish, President Dr Irfaan Ali on Friday announced that he will be working closely with the Private Sector in developing an anti-crime strategy.
"We recognise the need to improve public security. We've begun to strengthen the capacity of the Guyana Police Force to combat crime and improving the capacity of the Guyana Revenue Authority to arrest contraband smuggling," the Head of State announced during his keynote address to the American Chamber of Commerce (AmCham) during its Annual General Meeting.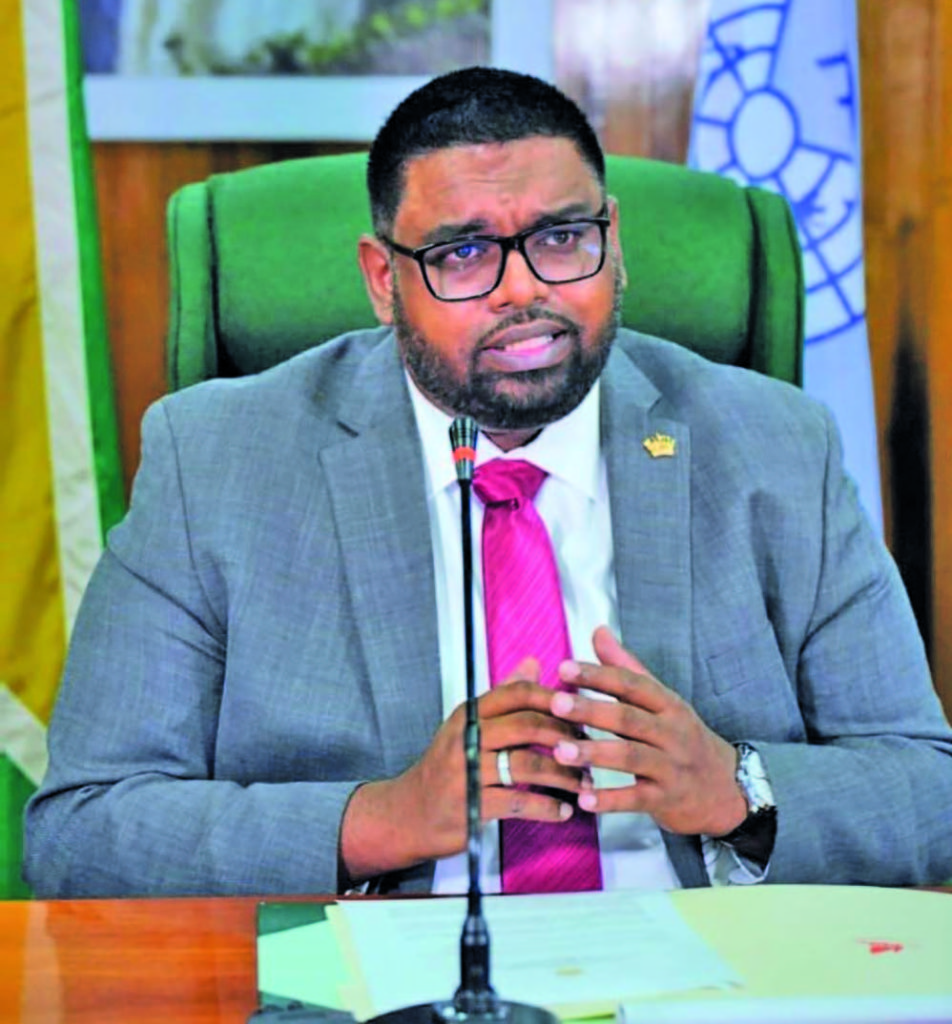 "My Government will work with the Private Sector in developing an anti-crime plan aimed to better protect the business community and citizens," President Ali said as he outlined his Government's business development strategy.
Apart from crime, he noted that his Government is committed to upholding democratic principles since businesses tend to strive in an environment of economic freedom.
"Democracy is vitally important to national development and to providing comfort to investors that there is respect for the rule of law and thus their investment will not be subjected to capricious actions," he explained.
According to the Guyanese leader, the absence of democracy creates an unfair playing field, predatory business practices and corruption.
Another tenet of the business strategy, he explained, is improving the ease of doing business in Guyana. This, he noted, will be done through an electronic single window for trade which will "reduce time and cost", simplify trade procedures and "eliminate duplication and redundancy".
"Instead of an importer, for example, having to visit six agencies for permits and approvals, all the documentation will be submitted at a single window and this will then be shared with the various agencies," President Ali explained.
He also stressed the need for businesses to operate in a competitive environment, making reference to the PPP/C Government's prompt liberalisation of the telecommunications sector – which immediately triggered a multitude of benefits to consumers from the country's major telecoms providers.
President Ali said there will be a national quality infrastructure project that will bolster the ability of local businesses to engage in global trade and ultimately increase competitiveness.
Additionally, he said the Ministry of Tourism, Industry and Commerce is working on an electronic transaction bill that will provide the facilitation of secure electronic communications and transactions.
The Head of State also touted a national entrepreneurship and innovation council to reform the culture of entrepreneurship, particularly to help existing entrepreneurs and to create new ones.
On the matter of trade policy, the President explained that his Government will work to unlock new markets for traditional exports like rice, sugar, bauxite and timber; as well as seek new opportunities for new products, services, and industries.
Moving on, President Ali underscored the importance of the small business sector to the economy, noting that they are "indispensable" and that they represent the "arms and legs of the economy".
He recognised that the small business sector has taken a serious hit amid the COVID-19 pandemic and it is against this backdrop that the President noted that they should be supported by Government.
Consequently, President Ali announced that there will be a small business amendment bill that will expand the range of procurement opportunities for micro-enterprises; to ensure that they benefit more from Government procurement.
Additionally, he noted that the grants offered by the Small Business Bureau have increased by 100 per cent since the new PPP/C Administration assumed office. In the same breath, President Ali said the Government will continue to promote access to financing for small businesses.
Moreover, the Head of State called into focus the need for consumer protection and noted that his Administration is working on a number of regulations aimed at protecting consumers. He made reference to the Hire Purchase Bill which deals with the procurement of items on credit.
President Ali lamented that the current legislation "provides that once a consumer defaults on a single payment, the owner is entitled to forfeit all the previous payments and to repossess the item. This can hardly be fair to the consumer".
Another important aspect, he explained, is the country's infrastructure. In this regard, President Ali highlighted the progress made by his new Administration in advancing several major projects – particularly those that will improve the transportation network.
The need for cheaper and more reliable energy is another issue, President Ali noted, that will have to be addressed urgently as the Government works to create an environment that is attractive to investors.