Several villages within the Moruca sub-district in Region One (Barima-Waini) recently received buses, tractors, boat engines, and generators from the Amerindian Affairs Ministry and the United Nations Development Programme (UNDP).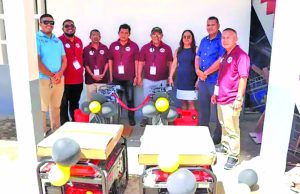 Subject Minister Pauline Sukhai, and Housing and Water Minister Collin Croal handed over the gifts during the Regional Toshaos and Community Democratic Council (CDC) Chairpersons Conference, at the Santa Rosa Secondary School.
The two buses were handed over to the villages of Karaburi and Mora. They were each procured at the cost of $3.7 million and $3.8 million, respectively.
The buses will provide transportation, bringing great ease to community members, specifically school children.
Additionally, the tractors were handed over to the Santa Rosa, Rincon, and Koko Area Councils. The heavy-duty vehicles were bought for $6.7 million each. The buses and tractors were funded by the Ministry of Amerindian Affairs.
Meanwhile, health services within the Moruca sub-district are expected to run more efficiently, as Waramuri and Manawarin each received a 40-horsepower boat engine and a generator for their health facilities.
The generators were donated by the United Nations High Commission for Refugees (UNHCR) and will be a source of backup electricity.
The engines will help the villages to transport patients to the Kumaka District Hospital for emergency and other medical purposes.
During the feature address at the conference, Minister Sukhai urged the village leaders to invest heavily in their communities with the funds that they receive from the Government.