Vice President Bharrat Jagdeo has reassured residents in Region Three (Essequibo Islands-West Demerara) that the Government is working on addressing the backlog of thousands of applications for house lots in the region.
He gave this assurance during an outreach at Uitvlugt, West Coast Demerara, on Saturday.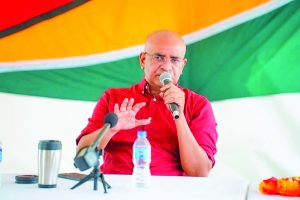 According to the Vice President, the PPP/C Government is committed to fulling its 2020 manifesto promise of delivering 50,000 house lots and in its first year alone, distributing some 10,000 house lots.
However, he revealed that there is currently a backlog of some 14,000 applications in the system for Region Three. As such, a high-level meeting was recently held to come up with a solution to tackle the backlog.
"So, we then sat down together, the Ministry of Housing, the President and I, and we started to look at how and where we can do 14,000 plots of land in this region," he disclosed.
But VP Jagdeo explained that most of the land along the West Demerara coast is privately owned.
"Government doesn't have much land on this [WCD] end… We have taken a bit from GuySuCo [Guyana Sugar Corporation on the WCD] already and at Wales [West Bank Demerara] end, we have some land there."
"So, we are now thinking about 10,000 lots at the Wales end and maybe another 4000 this [WCD] part so that we can accommodate the 14,000 people who applied," the VP said.
Jagdeo pointed out that currently, the Government is burdened with more applications than plots of land available. This, he noted, is compounded by the fact that very little was done under the previous Administration to accommodate the housing applications.
Housing Minister Collin Croal had told reporters earlier this month that the Government is working to address the backlog along the West Coast of Demerara. In fact, he noted that construction of infrastructure in some of those areas is currently being undertaken and upon completion, allottees will be shown their lots.
Minister Croal explained that there were some delays in the Housing Ministry accessing and preparing the lands.
"The lands for where we're doing infrastructure work in Region Three, or let's say West Coast, that started off after the others [across the country] because remember some of those land, we got them from GuySuCo and they wanted to wait until they were able to harvest and get all the sugarcanes off the land [before handing it over to us].
"So that's why we had a two to three months delay but it's in progress now and those persons can rest assured that they will be able to access their land very shortly," the Housing Minister had stated.
Accommodating everyone
Meanwhile during Saturday's outreach exercise, Vice President Jagdeo listened to some of the concerns of residents in Region Three and during the interaction session a Guyanese, who recently returned from Venezuela, asked about the Government's housing policy for remigrants, complaining of the high costs of rent.
In response, Jagdeo made it clear that once you are Guyanese, you are entitled to apply for and obtain a house lot.
"We need to accommodate everyone, all our people whether they've come recently or they've been living here," the VP contended. He urged the man to ensure that he, along with other remigrants, apply for lands so that they can be resettled in Guyana after escaping harsh economic and social conditions in the Spanish-speaking nation.
In fact, Jagdeo outlined that in addition to offering house lots, the Government also has several programmes in place for homeowners. This includes pre-built homes for distribution at various costs and more recently, a programme was introduced that will see land owners, both privately owned or State-distributed, getting assistance from the Government to construct their homes.
Only Saturday, the Housing Ministry's Central Housing and Planning Authority (CH&PA) rolled out the Home Construction Assistance Programme in Region Three at Leonora, WCD.
The initiative is the brainchild of President Dr Irfaan Ali and is designed to assist Guyanese families with lands to access financing and build their homes.
"Our goal, as a Government, is to ensure that all of our citizens have proper access to housing. We understand the many difficulties that you encounter and this programme provides an avenue to bridge that gap," Minister Croal stated.
Through the programme, applicants can select from three pre-designed housing models ($7 million, $9 million and $12 million) and pre-qualify for loans with financial institutions. Those on board include Republic Bank Limited-Guyana, Citizens Bank and the New Building Society.
The homes will be built by contractors and monitored by engineers of the Central Housing and Planning Authority for quality control. During the launch, several contractors in the region, who expressed interest in building the homes, registered with the Ministry's database.
The Home Construction Assistance Programme has already been launched in Regions Four (Demerara-Mahaica), Six (East Berbice-Corentyne) and 10 (Upper Demerara-Upper Berbice).