The New Guyana Pharmaceutical Corporation (GPC) was among the top awardees at the Guyana National Bureau of Standards' (GNBS) Annual Award Ceremony held on Thursday evening.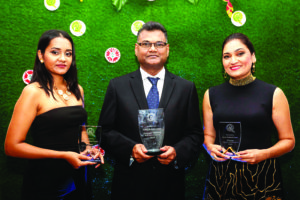 GPC was the overall winner in the category of continuous improvement in manufacturing.
Rupununi Essence, Luke's Manufacturing, National Milling Company of Guyana (NAMILCO), Assuria Insurance Company, Eureka Medical Laboratories, and MACORP Inc were also awarded for their services provided to the country.
Quest Medical Centre was awarded for its continuous improvement in small business services, and St Joseph Mercy Hospital for its continuous improvement in services.
Morning Glory won the award in the category of green initiatives agro-processing, while the National Milling Company of Guyana won in the category of the green initiatives manufacturing, Doobay Medical Centre won in the green initiatives small business services, and Assuria Insurance Company in the green initiatives services.
For the customer focus award in small business services, Woodlands Hospital's Limited Pathology Laboratory copped the winning spot while the National Milling Company of Guyana was announced as the winner of the customer focus of manufacturing. Eureka Medical Laboratory, on the other hand, went away with the award for customer focus services.
Ending off the award segment for the overall winners, Quest Medical Centre received the award for health and safety in small business service, the National Milling Company of Guyana for health and safety in manufacturing and Massy Distributions Inc in the category for health and safety services.
Head of Marketing and Communications of GNBS, Saheed Abraham explained that the first award ceremony was held in 2017 where companies participated in the categories of manufacturing services of gold and platinum winners. However, this was revised this year as part of their continuous improvement process.
Moreover, he explained that apart from them having overall winners, they thought it best to allow participants to gain recognition in key areas of strength. These key areas include continuous improvement, customer focus, health and safety, and care for the environment.
In closing, the Minister of Business, Haimraj Rajkumar, in his address congratulated the companies for their participation and their awards. He stated that this initiative has paved the way for these companies to persistently look for ways to improve their services to the consuming public; an effort that is appreciated by GNBS.