The Guyana Revenue Authority is accelerating its move towards a paperless environment and will soon begin to scan documents, among other things, to reduce its paper load.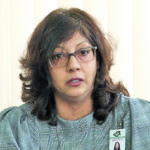 This was revealed by Deputy Commissioner of GRA, Hema Khan, during a press conference at the tax agency's Camp Street, Georgetown, head office on Friday.
According to Khan, soon, persons will no longer have to bring copies of documents such as proof of identification (ID) and addresses when transacting business at GRA.
"We will just collect them, scan them and give them back to you immediately. So that's gonna be done… and we're gonna be doing some changes with the configuration (in the system) so that we can stop (collecting document papers)," she explained.
The GRA Deputy further noted that the agency will be using documentation programmes that will facilitate not only storage of the digital data but quick retrieval as well.
The tax body had initiated this paperless trail since 2018 when it introduced the Automated System for Customs Data (ASYCUDA) pilot programme, which aims to facilitate paperless and improved customs transactions. The programme was implemented in 2019 and the GRA officials said it is making significant progress.
In fact, Khan revealed that GRA was able to process some 55,985 declarations through the ASYCUDA programme.
"It is significant to note because those declarations would have not only come into us but we would have had to key that in manually as well as all the paperwork associated with that. So that's been eliminated. So now we can concentrate on more meaningful activities rather than just doing data processing," she stressed.
Adding to this, Head of GRA's Information Technology (IT) Department, Sese Jones noted that they are working to build on that by offering the single window for customs and trade activities via a web portal and integrating all relevant agencies.
"That project is kicking off with the IDB (Inter-American Development Bank) and significant internal work has already been done. Provided that there are no further delays again, we should be able to start seeing significant progress a little early next year," Jones posited.
Furthermore, the IT Head outlined at the press conference that his Department has been feverishly working to get the agency to be more efficient and remove all barriers to daily procedures. This includes pushing its paperless system by moving to online services in relation to tax returns.
He pointed out that GRA will be engaging a number of partner agencies, starting with the large taxpayers, on the changes in submitting tax returns, PA form 2 and other documents electronically.
"We'd prefer them moving directly from their systems to our systems as opposed to them signing in and manually uploading documentations. We're working closely with those agencies to work out all of the technical details to facilitate a more efficient interaction between them and the GRA," the IT Head noted.
Jones added that for regular taxpayers, they want to roll back on the PDF documents, which were just interim solutions to help to facilitate an improved convenience for the employee.
"But in early next year, that will be done directly online and in subsequent years, we hope that can be done directly from their employer. Where when you get online, all you simply do is validate the content with your individual income tax already prepared for you. So there is a number of activities that we have going on," he noted.
But before this, the GRA IT Head explained that they are working on improving the agency's internal software. In the vein of improving internal operational efficiency, he said that they have engaged a company to assist them in building out a new tax administration software.
"[This] would put in the hands of our tax officers, a much better tools to be able to administer taxation accounts according to the rules in this country. As of around October of this year, we expect to begin actual rollout. As it is right now, we are working through all the rules in ensuring that the product reflects all of our operational procedures and also is in consistence with the laws of Guyana," the GRA IT Head stated.