– Jagdeo calls for higher standards of living for Guyanese
Guyanese can look forward to the New Year with hope President David Granger promised in his message to the nation when the clock struck midnight – signalling the end of 2016.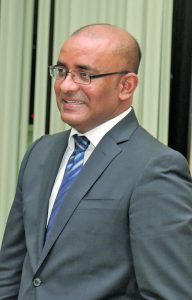 "We welcome the New Year 2017 with supreme confidence and with a strong conviction that we've chosen the correct course to advance our country," the Head of State expressed.
The President reflected on the past year and made promises to improve on the efforts employed to make Guyana a better place for all: "National pride was evident at home and in the Diaspora as we celebrated our jubilee year 2016. We shall be even prouder as we apply our assets and abilities in this New Year to move faster and further along the path of economic growth."
Granger focused most of his speech on plans for the development of a green economy, reiterating most of what he propagated throughout his presidency.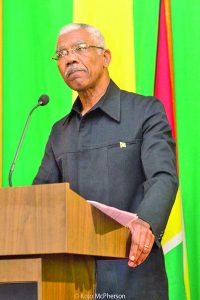 He said the population can begin to see concrete measures in place towards the realisation of a green economy, with more solar panels being installed in Government buildings and the shift to cleaner energy.
The President also spoke of the need for a better information communication technology (ICT) sector: "ICT will facilitate greater connectivity between the coastland and hinterland, it will stimulate the services sector and improve the delivery of public services and enhance competitiveness of our economy."
Granger also said that in 2017, much focus will be placed on protecting Guyana's sovereignty, especially with the Venezuela/Guyana border controversy being at such a delicate stage.
"Our vigilance to protect our people and our patrimony against all threats to our territory will not be diminished," he stated.
President Granger promised that with the new year, Guyanese will witness the acceleration of the transition towards improvement in our citizens' quality of life.
Meanwhile, Opposition Leader Bharrat Jagdeo has extended New Year greetings to all Guyanese at home and abroad. He wished a year that will deliver goodwill, higher standards of living, equity and justice as well as massive economic development for our people regardless of their race and ethnicity, religious beliefs and political persuasions.
"As we reflect on the significant challenges encountered in 2016, we must recommit ourselves to redoubling our efforts to ensure that we overcome those that lie ahead this year," he stated.
Jagdeo said 2017 must be used as the year to achieve national healing and reconciliation, racial harmony, unity and cohesiveness: " As a nation we must also strive to work together to achieve our broad objectives of creating an economy that is resilient, diversified, green and capable of withstanding the shocks caused by international financial crises and generating jobs and income for our people. Social services, including the delivery of quality health care and education and the welfare of the elderly and disadvantaged must be given greater priority."
He continued: " We can ill-afford this year to have more executive lawlessness, divisiveness, poor economic management and partisan 'social cohesion' initiatives. It is my hope that our National Assembly will rise to a new level where more meaningful consultation, political cooperation and consensus are the order of the day."
Jagdeo noted that the People's Progressive Party/Civic which is the main opposition parliamentary party will continue to lobby and fight for the rights of Guyanese at every level.
"We will seize every opportunity to ensure that good governance prevails and higher levels of transparency and accountability are evident in Government's business and undertakings," he stated.