…Pres Ali says her life was nationally-oriented
Government-nominated Commissioner at the Guyana Elections Commission (GECOM) and former Minister Bibi Safora Shadick, who passed away on Saturday at the age of 76, was laid to rest one day later.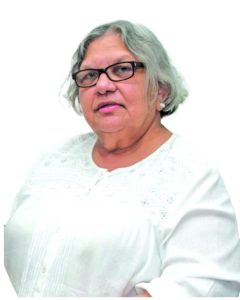 At the funeral service on Sunday morning, President Dr Irfaan Ali described Shadick as a great soul, who was resolute in her commitment to the development of Guyana.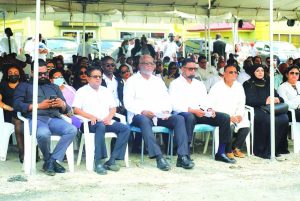 President Ali said the country and its people have lost an invaluable asset, who was "family, community and nationally oriented". He spoke about her diverse national orientation, which the Head of State outlined was centred around the country and its people.
"She lived a nation [life] – a life that was oriented around this country, this nation and the development of this country," the President noted.
According to Ali, Shadick lived her live in such a way that welcomed her passing.
"She knew this day would eventually come and she structured her life and her work always in preparation for this day. She lived her life and a life that was full," he further stated.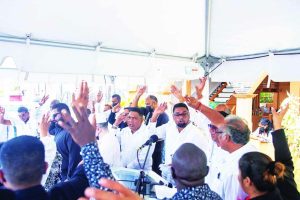 The Head of State joined members of his Cabinet, other officials including GECOM Chairperson Justice Ret'd Claudette Singh and Speaker of the National Assembly Manzoor Nadir, and family and friends at the funeral service and viewing for the former educator, lawyer and politician at her East Street, Georgetown residence.
Justice Singh described Shadick as a "truly extraordinary" GECOM Commissioner, who always went above and beyond in execution of her duties.
"She was always very strong in honouring her responsibilities as a member of the Commission. Even when Bibi was really affected by her ailment, which finally took her from us, she always tried her best to participate in matters of importance," the GECOM Chair recalled during remarks at the funeral service.
Following the service at her Georgetown home, Shadick's body was taken to the island of Leguan, Essequibo River, where she hails from, for the Janaaza (funeral prayer) and burial.
Shadick died at her East Street residence sometime around 15:00h on Saturday. She was reportedly battling prolonged heart and respiratory issues.
She was a PPP/C stalwart and served as the Minister of Human Services and Social Security for several years as well as a Member of Parliament up until 2015. She was also appointed Pro-Chancellor of the University of Guyana (UG) in 2015 and served in that post for some two years. At the time, she was a serving member of the University Council.
In addition, Shadick was appointed as Chairperson of the Guyana National Broadcasting Authority (GNBA) in 2012, and later returned to the body in 2017 as the Opposition representative on the Board of Directors.
At the time of her death, Shadick was still serving as a GECOM Commissioner and has participated in meetings as recent as last Monday, Tuesday and Wednesday. As a Commissioner, she had been outspoken and played an integral role prior to and after the historic March 2, 2020 General and Regional Elections to ensure democracy prevailed in Guyana.
In fact, she was also instrumental in the removal of former embattled Chief Elections Officer Keith Lowenfield, his Deputy Roxanne Myers and Region Four Returning Officer Clairmont Mingo from GECOM. Shadick was one of two GECOM Commissioners who had tabled a motion last year for the removal of the trio, who are before the courts facing a series of electoral fraud charges. They were terminated from the Elections Commission last August.
Scores of persons have since expressed their shock and condolences over Shadick's sudden passing.
In fact, in a statement on Saturday, GECOM said Shadick's efforts were consistently focused on the efficient management of registration and election projects as Constitutionally mandated, enacted in the legislation as well as international best practices.
Further, it was noted that her principled position was to ensure that there was compliance with fiscal and administrative procedures.
"Commissioner Shadick's tenacity of purpose was an ever-present feature during deliberations at the level of the Commission on matters of importance. Her contributions were always meaningful," the Elections Commission said.
Unorthodox force of nature
Meanwhile, a statement from the University of Guyana on Sunday called Shadick an "unorthodox force of nature, whose contributions were extensive and consequential".
Shadick, who served the University for over 10 years at various levels of its Council, is said to be known as one of the most forthright and fearless members of the Council while she served. She also possessed an incisive mind and a matchless wit, the missive from UG detailed.
It added that she remained interested in education and in the University until the end of her life, having written several notes in recent times, most recently to express her delight in seeing the launch of UG's International Centre for Excellence in Educator, Innovation and Development just two months ago. (G8)