– Guinness 'greatest of the streets' kicks off tomorrow
Street football action will make its highly anticipated return to the Pouderoyen Tarmac on the West Bank of Demerara this Friday night, when the 2019 edition of the Guinness 'greatest of the streets' tournament gets underway.
Unlike what obtained in years past, the Guinness Greatest of the Streets competition will begin with the West Coast Demerara Sub meet instead of the Georgetown Sub meet.
As shocking as the change may seem, Guinness brand manager Lee Baptiste shared the company's reasoning for making such a drastic change. He said:
"You would agree that Georgetown is the most popular and the subdivision that carries the greater action and expectation. So the thought behind it was to have the tournament climax with the best sub meet in terms of participation, and then after that we have the nationals."
The Georgetown leg would formerly have been held in November, and then fans would have to wait until January for the following meets. Citing this, Baptiste explained that the interval was too long and fans would likely have been unable to recall what transpired during the first meet held in the previous year.
Giving the media a peek into the future, Baptiste disclosed plans of a league that would be hosted after the sub division meets.
"We feel that we have our Sub meets; we have our National championships; and to really crown it off and reach that level where you can say you're the real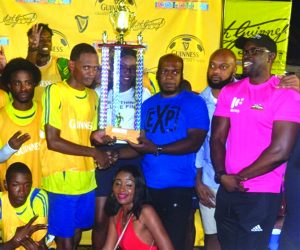 greatest of them all, a league will make that impression.
It has not been confirmed yet, we need to work out the logistics; but from all indications it looks as though it's going to be a go," Baptiste disclosed.
Once again, Colours boutique located on Robb Street will be onboard with the action. This time around, the boutique will be sponsoring the teams' uniforms in order to eliminate the use of bibs.
Colours Representative Creanna Damon pledged the company's continued commitment to the tournament.
"We would usually sponsor this competition with clothing apparel as well as footballs. I am proud to say that football is our sport, and we will continue to sponsor this competition regardless of the circumstances," Damon stated.
The action will begin on Friday, January 18, at the Pouderoyen tarmac. Drawing from a whopping total of 35 entries, the West Coast subdivision will run into February, with the finals being staged on February 15. Game days in January will be on the 18th and 25th, while the days in February will be on the 1st, 6th, 8th and the grand finale on February 15.
Coordinator Travis Best gave the details on what is expected come Friday night:
"We have eight games scheduled for the night, with 16 participating teams. Of the 16 teams, we have four newcomers who will be participating in this year's tournament. Out of Pouderoyen, we have Phoenix Ballers; from Den Amstel we have Up Top Ballers; from Agricola we have Genna, and from Bagotstown we have Young Ballers."
The winner of the West Coast subdivision will be walking away with $500,000, while the second place finisher will receive half of that total. Third and fourth place finishers will be awarded $200,000 and $100,000 respectively. Three time defending champions of the West Coast sub meet, Show stoppers will return to defend their long running title on Friday, with their first game against Up like Seven.