Story and photos by Brandon Corlette
Christopher Griffith and his Team Evolution team-mates came and conquered the Corentyne roadways at the Arokium Funeral Home 60-mile cycle race. Griffith, who finished solo, stopped the clock at two hours, 33 minutes and 45 seconds.
Two minutes later, Curtis "Chappy" Dey came in second in another solo finish. Paul DeNobrega then edged away for the third spot, beating pre-race favourite Andre "Padlock" Green (fourth) and Team Alanis rider Kemuel Moses (fifth).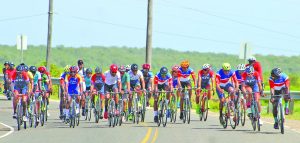 Under brilliant sunshine, more than 40 riders from across the country started at Alexander Street, New Amsterdam, and pedalled towards Number 43 Bridge before returning to the point of origin for the finish.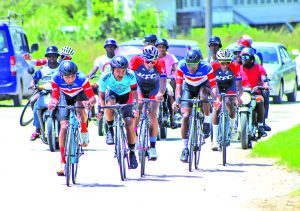 Top junior rider Mario Washington came sixth and got the better of top veteran Alex Mendes. In the junior category, Washington emerged as victor, while David Hicks and Adjani Cutting rounded out the top three. In the veterans' category, Mendes got the better of Paul Choweenam and Kwame Ridley in that order. Robin Persaud was the fourth-placed veteran.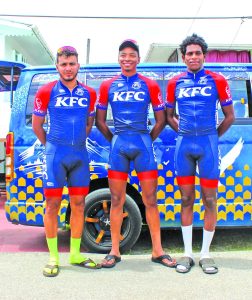 Linden's Clevicia Spencer was the top female while Marcia Dick came in second. In the beginner's category, Richard Crandon emerged as the top rider and Stephon Cumberbatch placed second. Deeraj Garbaran, who led the race from Number 19 to Alness, took four sprint prizes while Griffith had three sprint prizes. DeNobrega, Green, and Junior Niles had one sprint prize each.
As it happened
Garbaran led the race from Number 19, but the chasing pack that included Griffith, Dey, and Green pulled him back at Alness Village.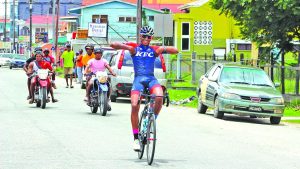 The riders raced towards the turning point, and junior Team United rider Alexander Leung was in the mix. At the turning point, Moses then joined the leading peloton and multiple attacks came between Ulverston and Bloomfield.
At Tain, Griffith took the lead, and that was "all she wrote". He led the way battling in the heat and cruised to victory. He was welcomed by a host of supporters at the finish, and he celebrated in style.
While Green enjoyed a great deal of home support from his fellow Berbicians, it was not to be his day. In a regular sprint, he was pipped by DeNobrega for third.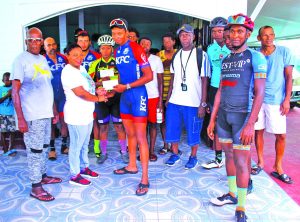 The race was held in remembrance of the late Phillip Arokium who was a cycling enthusiast. The Guyana Police Force displayed a collective effort to ensure the race was accident free. The race was organised by Flying Ace Cycling Coach Randolph Roberts.