A family of Grove Housing Scheme, East Bank Demerara (EBD) is now traumatised after they were attacked by a lone gunman during the wee hours today.
Marcia Fredericks, 49, was standing in her yard at around 03:00hrs calling a taxi to take her young nephew to Parika. It was at that time that the suspect, who was masked, jumped the fence and grabbed the woman by her hair.
The perpetrator forced the woman into the house and began to hit her on the head with a gun, as he demanded cash. The  ordeal lasted a few minutes. The suspect, who escaped on foot, managed to steal a cell phone.
The Guyana Police Force was contacted however ranks only showed up until around 06:00hrs.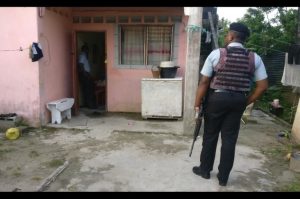 More details in the Tuesday, August 20, 2019 edition of the Guyana Times.