The Guyana Tourism Authority (GTA) in collaboration with the Tourism & Hospitality Association of Guyana (THAG) on Tuesday evening hosted its first co-branded Tourism Awards at the Ramada Georgetown Princess Hotel, Providence, East Bank Demerara.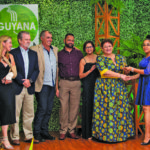 The award ceremony brought Tourism Awareness Month activities to an end—which was held under the theme "Tourism is a force for good in Guyana".
With cultural presentations and speeches from the President of THAG, the Director of the GTA and a feature address by Business Minister Haimraj Rajkumar, the event was dubbed a success.
The highlight of the evening was recognising the contributions and accomplishments of the tourism partners in Guyana over the past year.
There were fifteen awardees ranging from guides, accommodation, restaurants and supporting services among others.
These awardees were selected based on categories: People's Choice Awards for Hotel of the Year, Interior Lodge or Resort of the Year and Restaurant of the Year.
These awards were given based on the total number of votes derived from the public. The Industry Awards were twelve categories and were based on public nominations and justifications and the strength and volume of the justifications.
These were all selected by the GTA-THAG judging panel. Featured speaker Russian Dorrick, Toshao of Yupukari Village, North Rupununi, echoed the ongoing sentiments that Tourism is indeed a force for good in Guyana.
Nevertheless, the Hotel of the Year award went to Cara Lodge Hotel while the prize for Interior Lodge or Resort of the Year was awarded to ArrowPoint Nature Resort. Restaurant of the Year went to Bistro Café & Bar. The award for Best Emerging Tour Guide was given to John Christian with honorary mention, Asaph Wilson.
The Best Senior Tour Guide award went to Leroy Ignacio while the Emerging Tourism Destination or Community of the Year was awarded to Karasabai Village. The New Tourism Product or Experience of the Year went to Wichabai Ranch. Tourism Supporting Services Award was given to REEL Guyana and Visit Guyana. Most Outstanding Contribution to Tourism by an NGO/Volunteer group went to South Rupununi Conservation Society.
Wilderness Explorers was awarded as Tour Operator/Outfitter/Destination Management Company of the Year with Bistro Café & Bar, the Best in Service Excellence and Hospitality. The Tourism Investment of the Year award was handed over to Wichabai Ranch Honourable Mention: Watooka Guest House.
The award for Best in Sustainable Tourism went to Karanambu Trust and Lodge. The 2019 Leader in Tourism award was given to Donald Sinclair while the Guyana Tourism Hall of Fame Inductee was Paul Stephenson.