Two armed bandits on Saturday stormed a city poultry business, robbing employees of the day's proceeds at gunpoint.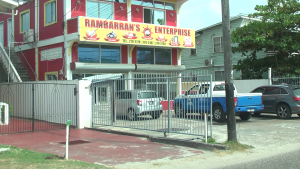 The robbery occurred at about 13:00h at Rambarran Enterprise, located on Middleton Street, Campbellville.
According to information received, the two males, armed with handguns, pounced on the business place and held the employees at gunpoint whilst demanding cash.
The staffers complied with their demands, as one of the bandits scaled the counter and emptied the cash register of an undisclosed sum of money.
The perpetrators then made good their escape in a getaway car, which was waiting outside with two other occupants.
Police were summoned to the location, and an investigation has been launched into the matter.
When Guyana Times visited the scene, the day's operation remained normal as customers were observed purchasing poultry supplies. However, employees were unable to speak to media operatives.
When contacted, one staff member would only confirm that the incident happened, telling this newspaper that they were exhausted from giving statements to the police moments before.