La Soufrière eruption…
…2nd shipment of relief aid left for volcano-ravaged island
With two shipments of relief aid already on the way to St Vincent and the Grenadines, President Dr Irfaan Ali has reassured Guyana's Caricom sister State of Guyana's support in the long term as the island state continues to grapple with the ongoing volcano crisis.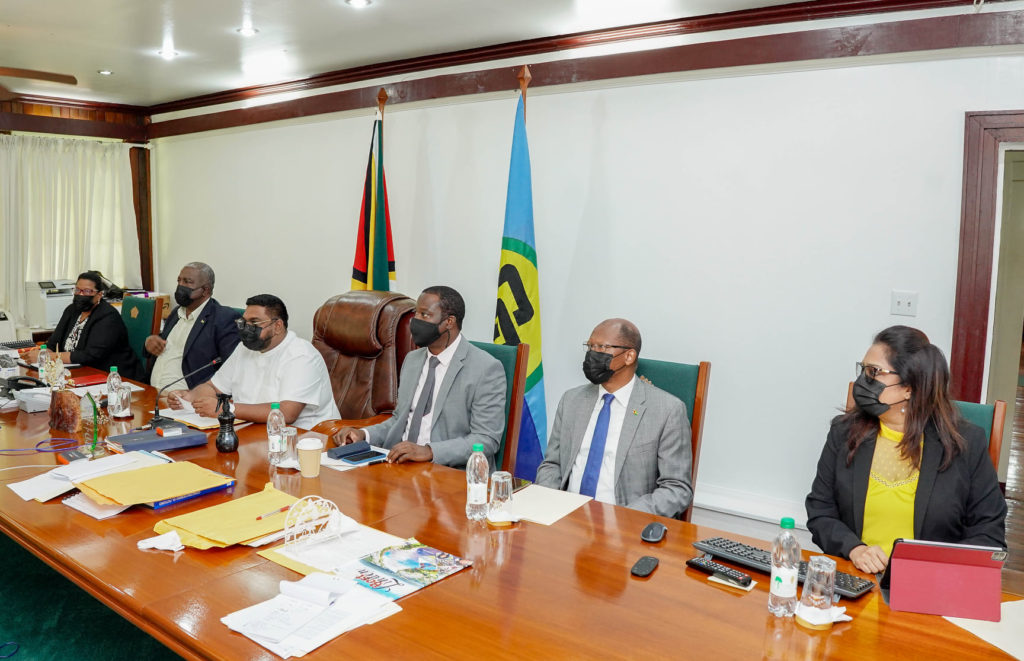 The Guyanese Head of State made this commitment during the 14th Special Emergency Meeting of Caricom Heads of Government, held virtually on Thursday.
President Ali assured Prime Minister Dr Ralph Gonsalves that Guyana is fully committed to assisting the people of St Vincent and the Grenadines, not only in the immediate period, but also in the medium and long terms, the Office of the President said in a statement.
The Guyanese Leader informed the regional meeting that a vessel had already departed with 350 tonnes of varied needs, including water, water storage containers, sugar, rice, peas, chowmein, sanitisers, detergents, disinfectants, personal care items, and supplies for infants. That vessel is due to arrive in St Vincent and the Grenadines on Saturday.
Private Sector support
Additionally, it was noted that a 20-foot container of water also left on a Tropical Shipping vessel on Thursday.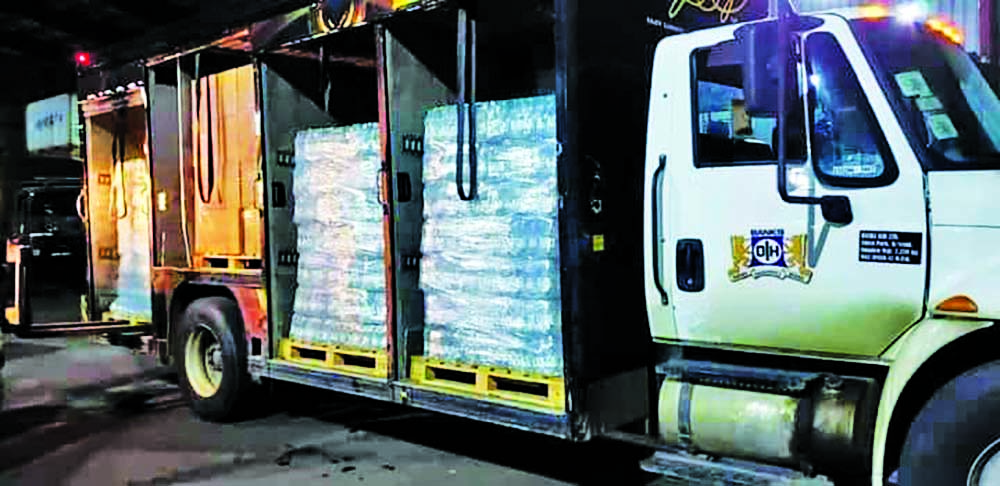 That container, according to Guyana's Civil Defence Commission (CDC), holds water supplied by Banks DIH. The local beverage company donated 800 cases of Tropical Mist water, 1152 cases of Rainforest Water, and 400 cases of Aqua Mist water.
Further, the CARICOM leaders were told that another shipment of items is being prepared for departure from Guyana next Monday. That shipment would include water, sugar, rice, assorted food items, and personal care and hygiene items.
President Ali also committed to sending a further 50 water tanks to St Vincent and the Grenadines, and 50 water tanks to Barbados in response to an appeal from that island's Prime Minister, Mia Mottley.
Barbados has been greatly affected by the ash emanating from the erupting La Soufrière volcano in SVG.
Meanwhile, the Guyanese Head of State indicated that Government has received immense support from the local Private Sector, which has mobilised financial resources as well. He added that his government intends to supplement this.
At Thursday's virtual Caricom meeting, President Ali was accompanied by Prime Minister Brigadier (ret'd) Mark Phillips, Foreign Affairs and International Cooperation Minister Hugh Todd, and other officials from the Foreign Affairs Ministry, including Permanent Secretary Ambassador Elisabeth Harper, Cabinet Secretary (ag) Marcia Nadir-Sharma, and Director of Department of the Americas, Ambassador George Talbot.
The La Soufrière volcano erupted in St Vincent last Friday, and intense ash has covered the entire island, spreading also to the Grenadines as well as to neigbhouring countries such as Barbados, St Lucia and Grenada.
Some 16,000 persons have had to be evacuated from communities in proximity to the volcano, and many residents are without running water, and even electricity.
Currently, there are just over 3,000 Guyanese residing in the Caricom island State, and according to Head of the Diaspora Unit at the Foreign Affairs Ministry in Guyana, Rosalinda Rasul, all of them are out of the Red and Orange Zones, which are the danger areas closer to La Soufrière.
"They are safe and they are in the Green Zone," she told <<Guyana Times>> on Thursday.
According to Rasul, the team from the Guyana Consulate in SVG has not found any Guyanese in the nearly 100 shelters established by the island's government. Most of these persons are currently seeking accommodation at private homes.
"They're properly accommodated at this time… The good thing is that we have people now coming forward to indicate whether they are, and that they are okay; wherein, earlier on, when the volcano started [erupting] we did not hear much from the Guyanese. But now we are in contact with them, and at least now we can get an idea what their needs, if any, and how we can assist them," she posited.
Rasul further told this newspaper that apart from inhalers for asthmatic persons, there has not been any special request from the Guyanese in St Vincent thus far. However, she noted that the Guyanese would also benefit directly from the relief items Guyana has sent to the island.
"We are assured that the aid that's going there (from Guyana) is actually going to reach the Guyanese population that's in St Vincent and the Grenadines. They're definitely being taken care of, we are assured of that," she indicated.
Meanwhile in a scientific update at 18:00h on Thursday, the University of the West Indies Seismic Research Centre said the seismic activity at La Soufrière has changed its pattern.
"The last of a series of bands of tremor ended at about 5:40 am, and unlike all the previous bands, had no strong venting or explosive activity associated with it. The seismic network has now recorded a near constant swarm of long-period and hybrid earthquakes, with three brief episodes of low-level tremor each lasting less than 30 minutes. The continuous GPS network shows a signal consistent with depressurisation of the magma reservoir following the initiation of explosive activity on 9th April 2021," the UWI SRC noted.
It went on to say that the volcano continues to erupt although explosive activity appears to have slowed at this time. Further, the Centre added, the current pattern of seismic activity may indicate growth of a lava dome, but this has not yet been confirmed.
Nevertheless, it was noted that explosions and accompanying ashfall of similar or larger magnitude could recommence in the future. (G8)