…Chief Instructor Chavez grateful for initiative
By Timothy Jaikarran
At a simple ceremony held yesterday at the National Park Dojo, the International Shotokan Karate Federation (ISKF) in Guyana signed a memorandum of understanding (MoU) with Guyana Beverages Inc.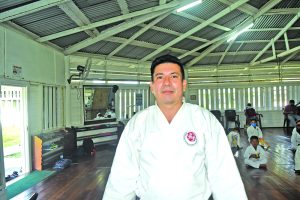 According to Marketing Manager of Guyana Beverage Inc, Collis Venture, the company decided to take the step because it is big on human development. ISKF-Guyana Chief Instructor Christopher Chavez is extremely grateful for the move made by the company.
when asked by this publication at the ceremony why go into the realm of karate, Venture said, "We decided to sponsor ISKF-Guyana because, as a company, we are big on development. So, whether it is with our staff or the community at large, we have been, and will continue to be, big on human development, and will continue to support sportsmen. We have been supporting sports for many years. For example, Shivnarine Chanderpaul, he is a product of Guyana Beverage Inc, and also, as of late, there is Omari Glasgow, the football player."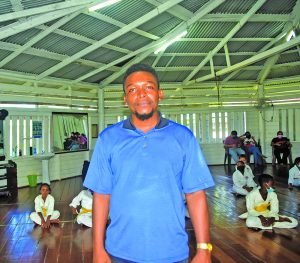 Venture noted that the company has been supporting sports for many years, and has promised to continue doing so in the future. He explained that when the company was approached to sponsor ISKF-Guyana, it was a no-brainer, because the company is big on supporting sportsmen and human development.
Also sharing his sentiments was Chief Instructor of ISKF-Guyana, Christopher Chavez, who took the opportunity to thank the company for such an initiative, as it would, he said, benefit the organisation.
"It is an organisation that is made up of almost 80 percent youth, and it will be beneficial to them. We have an active group training regularly, and karate of course will help them to develop good character, physical fitness, discipline. It will help them to become better citizens, better students, and to be integrated to make Guyana a better place," Chavez posited.
Chavez explained that this would make them better youths, as it is his belief that youths are the future, and the initiative from the beverage giant is an excellent move. The company, he said, should be complimented, as he is extremely grateful for such an important venture.
The Chief Instructor also promised to work along with the beverage company and promote their products, which is vital.