…to share intelligence, boost capacity to enhance border security
Guyana and its Portuguese neighbour, Brazil, have signed bilateral treaties that will see the two countries collaborating on a number of security and legal areas including the seizure and disposal or exchange of assets during criminal investigations and prosecutions.
These important pacts were entered into on Friday during the high-level State visit of Brazil's President, Jair Bolsonaro, to Guyana where he met with President Dr Irfaan Ali and they further agreed to strengthen capacity as well as intelligence-sharing in order to enhance border security.
It was noted that the two Presidents and their respective delegations held wide ranging discussions on bilateral, regional and global issues including challenges being faced at the present juncture especially those related to international peace and security.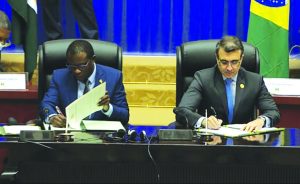 According to President Ali, the security talks focused on hardware and software technology as well as building and strengthening human resource capacity.
"So, we will be working out [and] coordinating efforts in these three areas in terms of security and defence. Hardware-software technology, which includes intelligence sharing; a security master plan that support the security architecture of both countries and our shared responsibility and shared challenges, and looking at ways in which we can deploy technology and a joint approach in securing our borders," the Guyanese leader said in brief remarks.
This was following the signing of two bilateral agreements between Guyana and Brazil for international legal cooperation in civil matters as well as for mutual legal assistance in criminal matters.
Mutual legal assistance
The Treaty between Guyana and Brazil on Mutual Legal Assistance in Criminal Matters provides for "mutual assistance in connection with investigation or prosecution of criminal offences including the restraint, seizure or confiscation as well as disposal and return of assets."
Meanwhile, the second Treaty on International Legal Cooperation in Civil Matters sees the parties "mutually agree to provide full legal cooperation in civil matters which involves civil, corporate, labour and administrative law as well as criminal sentences which seek compensation for damages in the civil courts."
These bilateral agreements were signed by Foreign Affairs and International Cooperation Minister Hugh Todd, and his Brazilian counterpart, Foreign Minister Carlos Alberto França, in the presence of the two Heads of State at the Arthur Chung Conference Centre (ACCC).
The Attorney General and Legal Affairs Ministry in Guyana and Brazil's Ministry of Justice and Public Security will be responsible for executing the provisions of the two treaties.
The expansive border between Guyana and Brazil is largely porous and has been a security concern for Guyanese authorities, especially as it relates to various trafficking crimes.
In a joint statement on Friday's State visit by President Bolsonaro in Georgetown, it was noted that the two leaders recognised the need for continued enhanced collaboration and dialogue in security issues, especially given the evolving threats posed by transnational organised crime, such as drug trafficking, human trafficking, corruption and illegal mining.
"The Presidents welcomed the expanded collaboration between relevant security agencies of the two countries and reaffirmed the importance of promoting the exchange of Police intelligence between the competent agencies of both countries. They agreed also to explore the possibility of negotiating specific projects related to the use of remote sensing images, as an effective cooperation tool to prevent and combat transnational organised crime in their territories," the missive detailed.
It was further detailed that President Ali welcomed an invitation by his Brazilian counterpart for the participation of Guyanese Police Officers in training activities and in joint operation promoted by the International Police Cooperation Centre, maintained by the Federal Police of Brazil, in Rio de Janeiro.
Guyana has been enjoying longstanding support by Brazil in the training of local military personnel, for which Dr Ali extended his appreciation to President Bolsonaro.
Additionally, both sides agreed to finalise the negotiation of the amendment to the bilateral Defence Cooperation Agreement in order to further dynamise their cooperation.
Meanwhile, having acknowledged the important role which the border communities of Guyana and Brazil play in the development of the relations between the two South American nations, Presidents Ali and Bolsonaro agreed to ensure that the understandings aimed at addressing issues specific to those communities particularly on consular cooperation would be fully and effectively implemented.
"The Presidents agreed to strengthen the bilateral dialogue and collaboration on consular and migration issues. In this context, they decided to convene the seventh meeting of the bilateral Consular Cooperation Group in 2022," the missive outlined.
Moreover, the Guyana and Brazil Heads of State on Friday also celebrated the conclusion of on several other agreements that are expected to be signed soon by relevant authorities from the two nations. These include a Treaty on Transfer of Sentenced Persons between the Co-operative Republic of Guyana and the Federative Republic of Brazil; Interinstitutional Cooperation Agreement between the Guyana Police Force of the Co-operative Republic of Guyana and the Federal Police of the Federative Republic of Brazil; and a Interinstitutional Cooperation Agreement Between the Guyana Police Force of the Co-operative Republic of Guyana and the Federal Highway Police of the Federative Republic of Brazil, on Cooperation for the Exchange of Information on Public Security, Prevention and Fight Against Organised Crime. (G8)