UN report
…as report warns State must get aggressive to advance social protection
By Jarryl Bryan
A recent report from the United Nations Fund for Population Activities (UNFPA) has stressed the need for more attention to be placed on social welfare and protection for the average citizen in middle-income countries – among which Guyana numbers. The report places a focus on social protection services being offered by Governments throughout the world. It details that there is more work to be done when it comes to eradicating child marriage. According to the report, up to last year, 30 per cent of children in Guyana got married by the age of 18. Haiti's rate was listed as 18 per cent, while in St Lucia the prevalence of child marriage was recorded at 24 per cent. Data on this subject was missing from several other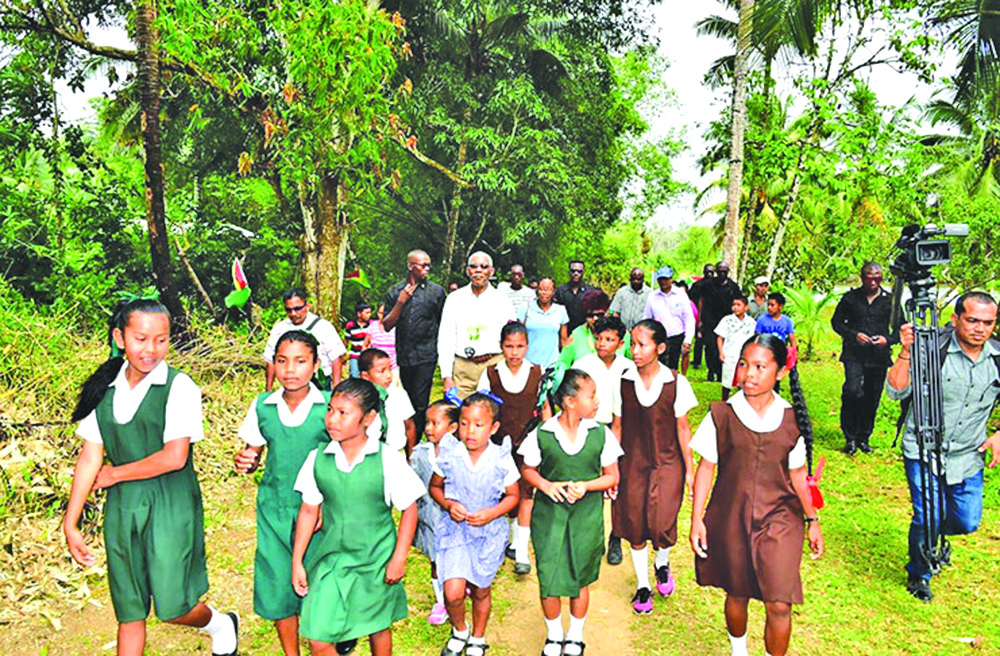 regional countries.
As of 2017, the report also pegged Guyana as having a life expectancy rate of 69 years for females and 65 for males. It is a rate which does not compare well with the regional average. Trinidad and Tobago has a life expectancy of 74 for females and 67 for males, while Barbados' rate stands at 78 years for females and 74 for males.
According to the report, French Guiana's life expectancy rate stands at 83 for females and 77 for males. Suriname's rate is 75 years for females and 68 years for males. Even Venezuela's rate of 79 years for females and 71 years for males exceeds Guyana's, despite the economic challenges the Spanish-speaking country is beset with.
One section of the report also ranks countries based on the rate of maternal deaths. It uses a Maternal Mortality Ratio (MMR) of deaths per 100,000 live births. According to the report, Guyana had a MMR of 229 deaths as of 2015.
This is a regional high, when compared to the rates in other countries. According to the report, Jamaica had 89 maternal deaths per 100,000 live births. St Lucia and St Vincent and the Grenadines clocked in at 48 and 45 respectively. Trinidad has an MMR of 63, while Barbados stood at 27.
When it comes to women having access to antenatal care, the report paints a more favourable picture of Guyana. It notes that women in Guyana are afforded the same level of access to antenatal care irrespective of rural or urban residency.
In terms of the prevalence of contraceptive use in females aged 15 to 49, 41 per cent of Guyanese women were found to use modern methods while 42 per cent used any method at all. The report also noted that 86 per cent of all births in Guyana had been attended by skilled medical personnel.
Recommendations
The report advises that bold initiatives be undertaken in order to increase access to health care, and contraceptives, and as many households as possible be included in the social protection net. While it noted that central governments must lead the way, it also pointed out that there was scope for civil society to get involved.
"Beyond actions aimed specifically at reaching and empowering poorer people – the poorest 40 per cent – specific measures driven by central governments may be needed to shift highly unequal patterns in the distribution of wealth and other resources, and to counteract systemic barriers and risks that trap individuals in inequalities."
According to the report, "a national inequalities commission could bring together people from different parts of the government, civil society and business to consider options and assess whether policy choices are minimising or exacerbating inequalities". The report states that poor access to contraceptives, lack of health care and high mortality rates are exacerbated in countries where little emphasis is placed on social protection.
The report also notes that given the amount of evidence on how inequalities can worsen if deliberate attention is not given by the State towards closing the gaps, the report advises that extending modern contraceptive methods to poor households should be a priority.
"Universal social protection may be one way to control inequalities. It requires everyone, whether they are working in informal jobs, retired or providing unpaid care work, to have access to basic income security, such as through pensions or income support for the working poor."
"It should also cover maternity, disability, child and similar benefits that are essential to well-being. A study of several poor and middle-income countries found that universal social protection would cost only one to two per cent of GDP [Gross Domestic Product]. This is much less than tax revenues that are lost by not taxing the wealthy effectively or tackling inefficiencies in existing public programmes," the report states.