…as Non-Resident Ambassador Extraordinary and Plenipotentiary accredited
Guyana is looking to collaborate with Spain in the areas of climate change, agriculture, technology, tourism, and investment, according to President Irfaan Ali.
He made this announcement on Tuesday at the Office of the President where he accepted the Letters of Credence from Non-Resident Ambassador Extraordinary and Plenipotentiary of the Kingdom of Spain to Guyana, Fernando Nogales Alvarez.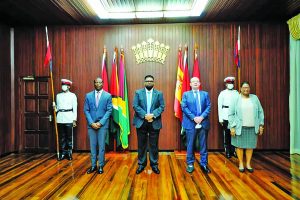 In accepting Ambassador Alvarez's Letter of Credence, President Ali asked him to convey to Prime Minister of Spain, Pedro Sánchez Pérez-Castejón, his gratitude and well wishes for continued well-being. He noted that Guyana and Spain share relations that build on mutual values and principles that shaped the nations into "who we are today".
"It is these values that will continue to be an impetus to promote greater cooperation and interaction between our countries," said the President.
According to President Ali, Spain has contributed to the developmental agenda of Guyana, especially through the hinterland rice and bean project. This cooperation, the Head of State added, has allowed Guyana to advance its policy agenda in the hinterland region.
Emphasising that Spain prides itself on the principles of equality and inclusiveness, the President highlighted that this has been increasingly shown through the European country's response to challenges the COVID-19 pandemic has had on vulnerable countries.
He added that Spain's contribution of vaccines to these nations including Guyana promotes the PPP Government's views on vaccine diplomacy and the belief that all nations whether developed or developing must be able to access vaccines.
"Guyana thanks your Government for its kind contribution to assist in the fight against COVID-19. The pandemic has shown that we live in an interconnected world where all nations depend on each other," President Ali told Ambassador Alvarez.
In addition, the President said that Guyana looks forward to collaborating with Spain on agriculture, climate change, technology, tourism, and investment. He said, "The strengthening of the friendship between the two countries will produce fruitful dialogues and collaborations that will be beneficial to the two countries."
Moreover, the Guyanese Head of State added that his Government recognises Spain's interest in the Caribbean region through the Spain-Caricom cooperation mechanism. To this end, he said that Guyana will continue to advocate for closer collaboration with Spain and Caricom to forge a strong connection in the region which will further bridge the two countries.
He said that Guyana commits to revitalising relations with Spain and that the accreditation of Ambassador Alvarez will do just that. President Ali assured Ambassador Alvarez that the PPP Government will fully support him in the discharge of his duties.
Meanwhile, Ambassador Alvarez said that Spain intends to be a bridge for dialogue and understanding between the Caribbean region, Latin America, and the European Union.
He said that his country is ready to target those sectors that promote equality, in particular to the most vulnerable countries. According to him, while Spain experienced difficulties during the first phase of the pandemic, it ensured that it provided vaccines to those countries in need.
Ambassador Alvarez said that Spain is committed to shaping the future of Guyana, while noting that in the Spanish society, there is a very tangible interest in getting to know the Caribbean cultures.
"Your Excellency, it has been with great interest and expectation that Spain has been forwarding for a number of years, economic and very extraordinary political development in Guyana and also the role as a very active member of Caricom," the Spanish Ambassador told President Ali.