…CAL cancels flights out of Trinidad
A tropical storm brewing in the Atlantic is expected to pass over Trinidad and Tobago, and Guyana may feel the effects of it in the form of wind and occasional showers. It is expected to rain today with thunder because of Tropical Storm Bret.
The weather pattern for today, according to hydrometeorological reports, would be mostly cloudy skies with light to moderate showers and intermittent rain in Regions Three to Six. All other locations can expect continuous rain, light to moderate showers, and isolated thundershowers, according to the Hydrometeorological Office of Guyana.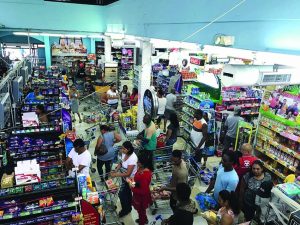 High tide warnings are still in effect until Thursday, and residents are asked to take the necessary precautions to avoid flooding.
Meanwhile, the Government of Trinidad and Tobago (T&T) says that they are prepared for the eventuality of Tropical Storm Bret hitting the twin-island republic and urged citizens not to panic. However, citizens flocked supermarkets and gas stations to stock up on emergency supplies.
There are reports of residents feeling the effects of the storm in all parts of T&T. Schools and public offices in Tobago have been ordered closed for today. Tobago House of Assembly (THA) Chief Secretary Kelvin Charles said that the Administration was not taking any risks as it related to the safety of its citizens and delayed the scheduled reading of the Tobago Budget until Thursday.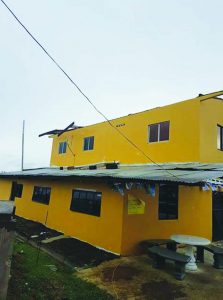 However, in Trinidad, the Administration is still contemplating closing all government offices, but the Education Minister announced that all schools would be closed today. The Banking Association, along with several other businesses, also announced that their organisations would remain closed on Tuesday and they would update the citizenry as required.
There are already reports of roofs blowing off, trees and utility poles crashing down and landslides on the island of Trinidad.
T&T national airline, Caribbean Airlines Limited, cancelled several domestic and international flights in and out of the twin-island republic. A total of 31 flights have been cancelled and would affect passengers travelling between Monday and Wednesday.
Residents close to the Piarco International Airport are reporting heavy rainfall coupled with strong winds. "The wind is picking up so everybody hurrying to get home and make sure everything is safe," Piarco resident Jayson Seeram told Guyana Times.
However, some residents of Trinidad are taking the storm warnings lightly as the CNC3 reports that a boat filled with revellers was spotted in the Gulf of Paria. (Lakhram Bhagirat)