– main event set for June 25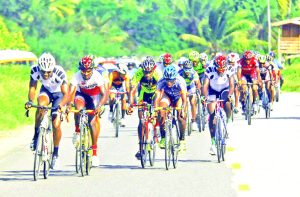 The 2023 National Cycling Championships in Guyana are set for staging on June 17 at the National Park, with races for the Juveniles and females. On Sunday June 25, the main event will see the elite riders battling for supremacy over a distance of 97 miles.
The Championships commence in Linden, but the full routes are yet to be disclosed. According to the Guyana Cycling News, June 16 will see a technical meeting for the National Championships for Juniors, Juveniles, Females and Masters. The following day, cycling action will be at the National Park, where the Juniors, Juveniles, and females will be on show.
On Sunday June 18, the National Championships for Masters will pedal off from Carifesta Avenue towards the Half-Way Tree at Perseverance in Mahaicony, ECD, before returning to the point of origin for the finish.
On Friday June 23, a technical meeting will be held for all of the categories participating in the National Championships' Time Trials. And on June 24, the Time Trials will be held at the K&K Gas Station circuit in Mahaica, ECD. The Championships will culminate on June 25 with the Elite race being staged.