…says this will be key to country's development trajectory
The importance of Guyana retaining and attracting skills, while halting the brain drain, was on Tuesday underscored at the Guyana Basin Summit (GBS) as an important strategy to ensure the country develops its full potential during its oil and gas boom.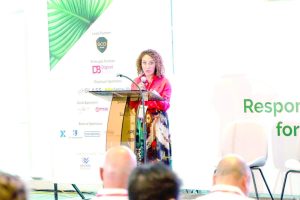 According to Executive Director for the International Association of Oil and Gas Producers (IOGP), Iman Hill, Guyana is in a good position to leverage its growing oil and gas industry to attract the best minds from its own people.
"Guyana's recent oil discoveries have the potential over the next decade to transform the country from one of the poorest in the western hemisphere to one of the most prosperous, but it will be key to retain, develop and attract critical skills."
"According to the UN in 2019, this country had one of the highest immigration rates in the world, with an estimated 30,000 people leaving each year and only half of the population living in country," Hill said.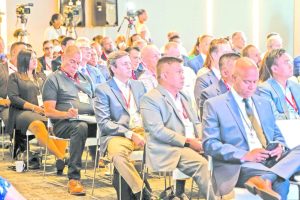 She noted that Guyana therefore has an opportunity, to build development and retention strategies to prevent the brain drain, while also facilitating stronger ties with the Guyanese diaspora.
"To serve as an opportunity for investment, coaching or to return home. The relationship between Guyana and the diaspora is a unique one, in terms of the large size and the high level of education of that diaspora, notwithstanding the majority of Guyana's population is young."
Earlier this year, President Dr Irfaan Ali, during the Global Business Leadership Forum, had related that his Government is working on a holistic immigration policy to support Guyana's current development trajectory. This, he had said, is because the country has found itself in a position where there is a net loss of labour.
"I had a meeting on Friday with the contractors, and they're all behind schedule now because they can't find labour. They can't find workers, and this is a major problem that we're going to be faced with. Some may say it's a good problem to have, but it's a very troubling problem. So, we are working now on a holistic immigration policy, not only for the diaspora but understanding critically what the demand will be in three years, five years and ten years."
The President added that a leading expert has been hired in the area that will work along with the country's local team to examine the issue and provide an analysis that will be used to form a policy.
"We need people badly and we need them now, and with the type of infrastructure that we're investing in, the type of healthcare service we're investing, the type of education services that we're investing in, guess what? Those services, when they're fully built out in five years to 10 years, will require people to consume the service."
Further, President Ali stated that regional integration is a fundamental pillar of Guyana's economic development. He explained that Caricom has "enormous" economic potential and that Guyana is willing to provide a platform through which investors can realise such. He also mentioned upcoming events to facilitate this, including the country's hosting of the Region's Agriculture Investment Forum in May.
The Head of State had said that one of the most powerful tools that Guyana has produced is its human resources. He had also said that school curriculums have to change to reflect the dynamism of the new path that the country is on. According to President Ali, Guyanese must prepare themselves for the impending opportunities.
"People who are brilliant, people who understand issues and people who are able to not only help Guyana but to go all over the world and shine. We're not talking today only about preparing our young people for the oil and gas sector."
"We want every single primary school student to have elementary training in coding and software development. By the time you get up to secondary school, you must be doing serious work on becoming specialised or becoming specialists in software creation and development." (G3)