− as Hess reveals developmental projects on schedule for completion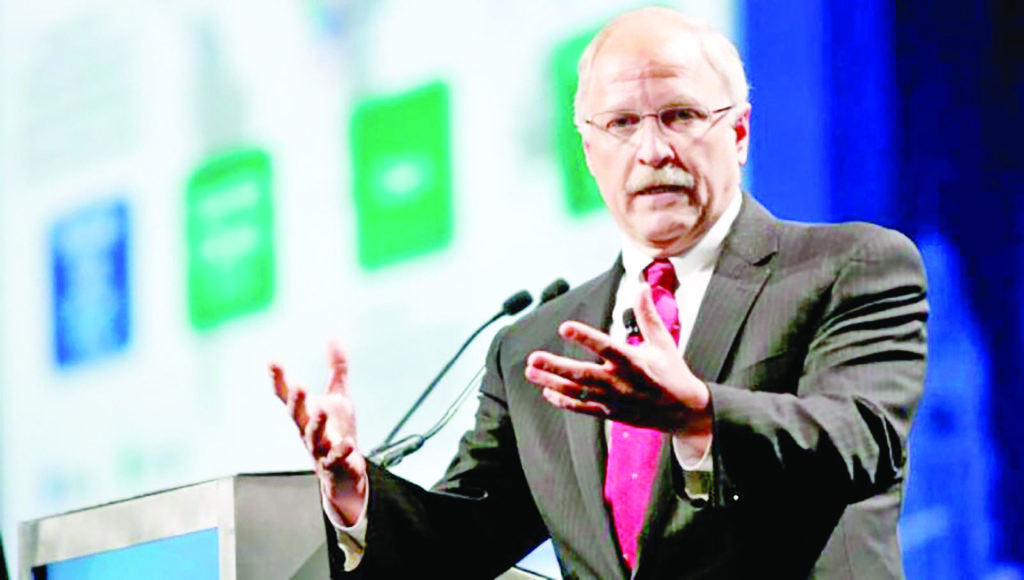 With the Liza Phase 2 and Payara developments on track for their scheduled completion and the Liza Phase 1 development averaging 120,000 barrels of oil per day (bpd), Guyana's oil production is likely to exceed 500,000 bpd by 2024.
This was revealed based on the figures and development schedules quoted by Hess Chief Operating Officer Greg Hill. Hill, whose company is a co-venture partner of ExxonMobil in the Stabroek Block, was at the time participating in the 2021 first-quarter earnings call.
He explained that at the Liza Phase 2, the project is progressing according to plan. According to him, approximately 90 per cent of the overall installation work is completed. This means that first oil for Liza Phase 2 remains on track for early 2022.
"The Liza Unity FPSO, with a production capacity of 220 thousand gross barrels of oil per day, is preparing to sail from the Keppel yard in Singapore to Guyana midyear," Hill also explained during the call.
The Payara development, meanwhile, is also progressing. According to Hill, 38 per cent of the overall work on this project, which will utilise the Liza Prosperity Floating Production Storage and Offloading (FPSO) vessel, has been completed.
"The project will utilise the Liza Prosperity FPSO, which will have the capacity to produce up to 220 thousand gross barrels of oil per day. The FPSO hull is complete and topsides construction activities have commenced in Singapore. First oil remains on track for 2024," Hill explained.
When it comes to the Liza Phase 1 project, which is already on stream and producing oil, Hill acknowledged that this project has faced some challenges in the form of the malfunctioning flash gas compressor on board the Liza Destiny FPSO.
After being sent all the way to Germany for repairs for several weeks and only returning recently, Exxon had announced last month that the gas compressor on the Liza Destiny had once again failed, resulting in oil production having to be reduced to 30,000 barrels of oil per day (bpd).
Exxon had revealed that as it was conducting the final testing phase of the reinstalled flash gas compressor and other components of the system on the Liza Destiny FPSO, it encountered an additional problem with the discharge silencer.
The US oil giant noted that a team from SBM Offshore, Germany manufacturer MAN Energy Solutions and ExxonMobil were on site to assess repairs with support from engineering experts in Europe and the USA.
However, Exxon has since raised its oil production output to between 100,000 and 110,000 barrels of oil per day. Additionally, Exxon has committed to flare no more than 15 million cubic square feet of gas per day.
"Production is currently averaging between 100 thousand and 110 thousand gross barrels of oil per day and is expected to stay in that range while repairs are made to the silencer. Upon reinstallation and restart of the flash gas compression system, expected in approximately 3 months, production is expected to return to or above nameplate capacity of 120 thousand barrels of oil per day," Hill said.
"For the second quarter, we now forecast net production to average between 20 thousand and 25 thousand barrels of oil per day and our full-year 2021 net production to average approximately 30 thousand barrels of oil per day," Hill further explained.
The Stabroek Block is 6.6 million acres (26,800 square kilometres). ExxonMobil affiliate Esso Exploration and Production Guyana Limited is operator and holds 45 per cent interest in the Stabroek Block. Hess Guyana Exploration Ltd holds 30 per cent interest and CNOOC Petroleum Guyana Limited, a wholly-owned subsidiary of CNOOC Limited, holds 25 per cent interest.