…agreement signed to pave way for US investors in energy, infrastructure
With increased interests from around the world following the discovery of massive oil reserves offshore Guyana, President Dr Irfaan Ali said Guyana is open to foreign investments not just in the petroleum sector but areas that propel the country's development and enhance the lives of its people.
This statement comes on the heels of the Guyana and United States Governments signing a Framework Agreement to strengthen cooperation in various sectors including energy and infrastructure, under the umbrella of the Growth in the Americas Initiative.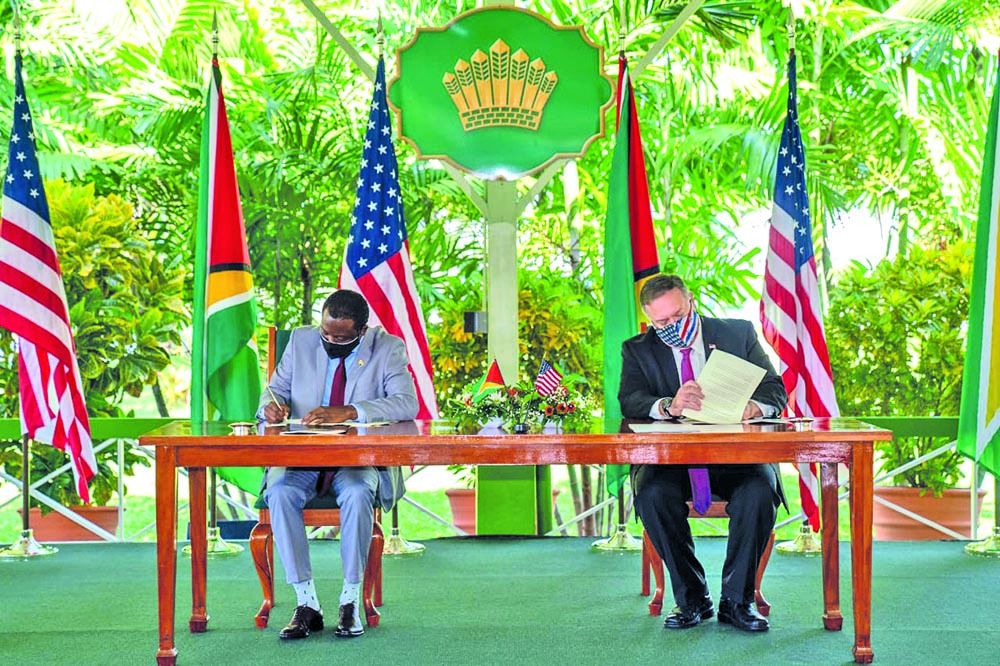 The Framework was one of the major outcomes from the historic visit of US Secretary of State, Mike Pompeo, over the past two days in Guyana. The agreement, which was signed by Secretary Pompeo and Foreign Affairs and International Cooperation Minister Hugh Todd at State House on Friday morning, will stimulate the enhancement of the business environment for US private sector investment in Guyana, particularly in the fields of energy – both non-renewable and renewable – and infrastructure.
Speaking at a joint press conference on Friday morning following the signing of the Framework, President Ali explained that this agreement will not only pave the way for the US private sector to expand their investment portfolio here but also partner with the Guyanese Private Sector.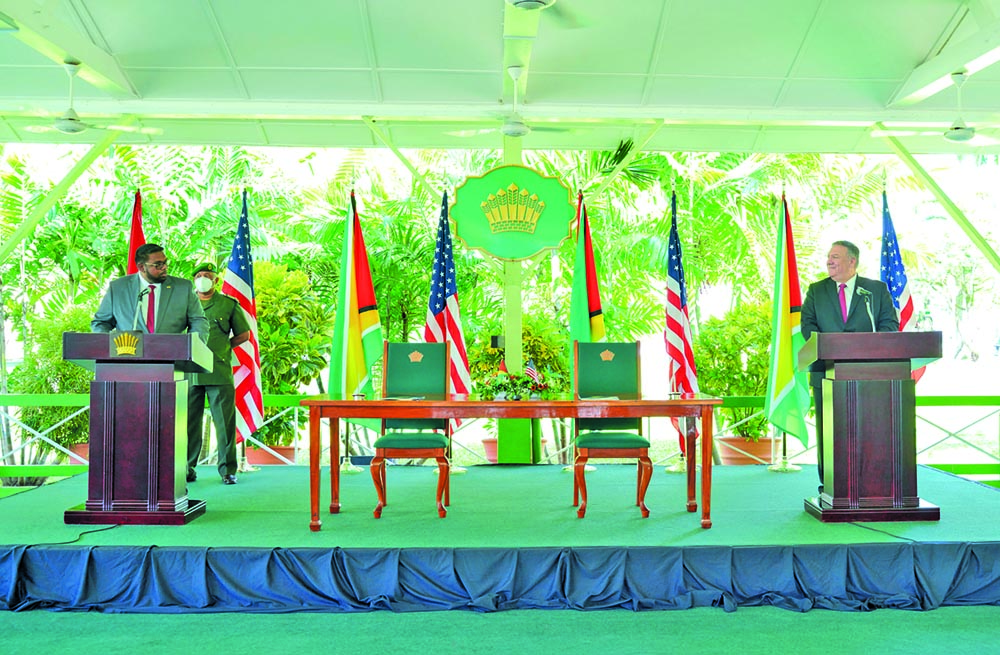 "These partnerships will help to meet our broader infrastructure and downstream development needs, and by extension, drive economic growth and development as well as job creation. Notably, more opportunities will be available for firms to explore investment opportunities in the tourism and hospitality sector, ICT and food production, among others," he asserted.
Growth in Americas Initiative
On the other hand, Secretary Pompeo disclosed that Guyana is the second Caribbean nation to join the "Growth in Americas Initiative". This, he pointed out, demonstrates that the United States wants to model the Private Sector, not State-owned enterprises.
"[This] investment model is superior. It will deliver real, good things for the people of your country.  It'll bring both those jobs – frankly, jobs to America as well – and it'll increase cooperation on environmental issues just like potential spill responses. The last economic piece our Governments are working on is to increase trade and foreign direct investment here," the Secretary of State asserted.
According to President Ali, such foreign investments will not only facilitate the mobilisation of US capital and the US private sector to take advantage of the wide-ranging economic opportunities and infrastructure transformation that will take place here, but more importantly, will allow for collaboration, cooperation, transfer of technology, and the building of local capacity here in the local Private Sector. As such, he stressed that the agreement sends the right signal to investors.
"Guyana is open to investment; we're open to investments. We're open to investment and investors in a transparent manner… We have a large task group in the US, we have great opportunities here, and we want to see more investment. We have said this before. We want to see more investment and more private sector interest from the US," he posited.
The Head of State went on to note that the oil and gas sector is a great impetus for the more macro-economic vision for Guyana as it allows for the building and expansion, and creation of an environment in which the country's traditional sector will become competitive, and also brings additional resources that can transform the country's infrastructure as well as building out the new economies that will focus heavily on knowledge, that is, ICT, health and education as export commodities, expanding agriculture, among others.
"We have a massive market [in] Caricom that we can take advantage of, but we have to become competitive. We have to have economies of scale. So, the resources will help us to grow these sectors that will bring additional work, create new jobs, and expand economic opportunities for our country. That is what is important for us," the President stated.
However, with more foreign investments expected to flow in following this Framework Agreement, the Guyanese leader reassured that the people of Guyana will also benefit from these opportunities.
"We are committed to supporting investment in [the oil and gas] sector, and we are committed in ensuring that Guyanese benefit from these investments. That is why we've established a technical taskforce to look at local content and to see how we can not only support the local Private Sector, but how we can build a capacity and ensure that they benefit from local content," Ali contended.
Fair and transparent opportunities
Secretary Pompeo stated that the US will do all it can to help American companies have access to investment opportunities in places such as Guyana. But at the same time, he impressed that this has to be done in a fair and transparent manner as the US is equally interested in seeing the wealth that is created from these opportunities benefit Guyanese.
"The United States model is to build out on the best things of your country. We'll show up, we'll bring capital, we'll bring resources, we'll often bring technological capabilities that are much-needed to develop resources, develop infrastructure for your country, but we don't do so with political strings tied to them… That's not how American foreign direct investment operates… We have private sector leaders… These aren't State-owned enterprises that come and invest here in Guyana. These are private sector companies looking to make life better for the Guyanese people and to do a good turn for their company as well," the US Secretary of State underscored.
Pompeo arrived in Guyana on Thursday and is the highest-ranking US Government official to ever visit the country.
He is currently on a tour of the Western Hemisphere that focuses on the US's commitment to defend democracy, combat COVID-19 while revitalising economies in the pandemic's wake, and strengthen security against regional threats.
Secretary Pompeo began his tour in Suriname on Thursday before coming to Guyana. He departed Friday afternoon for Boa Vista, Brazil, and will travel to Colombia today before flying back to the US and wrap up his tour in Texas on Sunday. (G8)