ꟷ involving 12 teams of over-45 participants
The novel coronavirus pandemic (COVID-19) has put a halt to cricket in Guyana and around the world, but as the players on the international scene prepare to take the field again, some countries are already enjoying this beautiful game under strict health guidelines.
In Guyana, team sports and similar recreational events have not yet been given the green light to resume; but, in the meantime, a new cricket tournament is in the planning stage. The Guyana Masters Cricket Association (GMCA), operating under the auspices of the Cricket West Indies Masters Association (CWIMA), is planning a new and exciting tournament, to be played among local teams once permission is given to resume the beautiful game in 'the Land of many Waters'.
The tournament, "Big Man Cricket", is intended for players who are 45 years old and older, and will be a 45- overs-a-side contest using pink hard balls in the domestic tournament.
Players aged 45 and over are being considered at the domestic level, in order to create a pool of quality cricketers and to get them accustomed to the format, so that they are ready if selected at the Over-50 level.
However, ONLY players who have attained 50 years of age on March 1st, 2022 will be eligible for selection at the national and regional levels.
"Ideally, we are looking to attract four teams from each of the counties, to give as many players as possible the opportunity to turn back the clock. Interested persons, teams, clubs and/or sponsors are encouraged to enquire and sign up by contacting John Ramsingh of the GMCA, the local Organizing Committee, via e-mail, whatsapp or telephone # 664-3999; or they can contact Raj Singh via email [email protected]; Whatsapp +1239-699-7047.
"Also, potential sponsors will be sought, but interested organizations are also encouraged to contact the committee for details.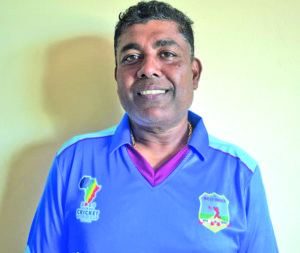 "This tournament will be used to select a Guyana representative side to compete in the CWIMA Regional Over-50s Tournament, scheduled to be held in 2021. Additionally, the Regional tournament will be used to select players for the West Indies Over-50s side, to play against other international teams and in the next Over-50s Cricket World Cup.
"The first ever West Indies Over-50s Cricket Team, which was recently formed, took part in the Over-50s Cricket World Cup in Cape Town, South Africa in March 2020. Unfortunately, after two and a half matches, the tournament was called off due to the threat of the coronavirus. The next Over-50s Cricket World Cup is set to return to Cape Town in 2022, once given the go-ahead", the Guyana Masters Cricket Association has said.