…Govt commits to reviewing criminalisation of attempted suicide
Guyana experienced a "significant" decline in the number of deaths caused by suicide with 141 cases recorded in 2018 when compared to the 184 documented in 2017.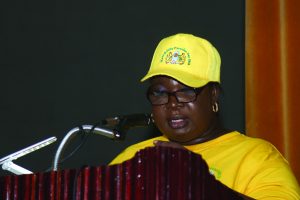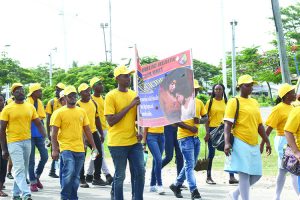 These figures were disclosed by Director of the Mental Health Unit, Dr Util Richmond-Thomas during a programme organised by the Public Health Ministry at the National Cultural Centre in observance of World Suicide Prevention Day on Tuesday.
According to Richmond-Thomas, young people between the ages of 20 and 29 years old accounted for the most suicide deaths during 2017 and 2018.
She was keen to note too that the majority of the deaths were as a result of pesticide use followed by persons hanging themselves.
On the other hand, the Director related that persons who attempted suicide and were unsuccessful in their bids are now being assessed by psychiatrists and are linked to services such as alcohol and substance abuse treatments.
The Mental Health Director posited that the Ministry still has a lot of work to do to reduce these figures.
"According to the National Suicide Plan 2015-2020, published in December 2014, Guyana ranked at the top worldwide with an estimated suicide rate of 44.2 per 100,000. Also, according to the said plan, suicide was a leading cause of death among persons aged 25-44 years old. The most affected age group was 20-29 years but individuals 13-19 years and greater than 50 years were in high proportion," she explained.
But more recently, the death rate caused by suicide stood at 24.63 per 100,000 in 2017 and 18.80 per 100,000 in 2018 in a population of just about 746,995 people.
Males, she pointed out, die more frequently as a result of suicide with a proportion of four to one while the most common method was by pesticide or herbicide use. In fact, statistics revealed that 69 per cent of suicide cases were men in 2017 which climbed to 83 per cent in 2018.
East Indians accounted for more than 50 per cent of suicide cases which were highly concentrated in Regions Two (Pomeroon-Supenaam), Six (East Berbice-Corentyne), Three (Essequibo Islands-West Demerara), Four (Demerara-Mahaica) and Five (Mahaica-Berbice), respectively.
A further breakdown shows that last year, 65 per cent of persons were of East Indian descent, 17 per cent were of African descent and 8.5 per cent were Amerindians while seven per cent were mixed race.
Although this was the case, Chief Medical Officer, Dr Shamdeo Persaud told the gathering that suicide has no face and that everyone suffers from this scourge.
On the other hand, Pan American Health Organisation, World Health Organisation (PAHO/WHO) Representative, Dr William Adu Krow reminded Guyana that while the figures may be decreasing, the country still needs to do more work.
He pointed out, "In 2014 we happened to be the worst in the world in terms of per capita (suicide deaths) now we are the third-worst and we are coming down".
More alarming, Adu Krow explained that for every death, about 20 to 25 people attempt suicide, which translates to about 3500 persons who try to harm themselves annually.
Decriminalising suicide
With calls mounting for the Government to decriminalise attempted suicide, Public Health Minister Volda Lawrence committed to reviewing the laws which criminalise the act.
While delivering the feature address at Tuesday's event, she said, "Our suicide attempts are our target for intervention…let me assure all of you that I will seek to have the repeal of Chapter 8:01 96 of the laws of Guyana which criminalises attempted suicide".
Back in July, British High Commissioner Gregory Quinn renewed calls in support for the decriminalisation of attempted suicide, as he shared the belief that it is not a criminal offence, but rather a cry for assistance.
He stated that suicide was removed from the list of criminal offences in England and Wales since 1961 and such actions should follow through for Guyana as well because it eliminates the stigma for surviving family members.
"Suicide here in Guyana needs to be decriminalised. It needs to be taken off the criminal statute. It is no way a criminal offence…It was decriminalised in England and Wales in 1961 with the appropriately named Suicide Act. What that fundamentally means is not only is the stigma removed from surviving family members, but also those who try and fail are no longer prosecuted…If you do, here in Guyana, you are and this we believe is fundamentally wrong. Trying to commit suicide is a clear statement of a need for help," the High Commissioner shared.
This year, World Suicide Prevention Day was observed under the theme "Working together to prevent suicides".
To commemorate the day in Guyana, a sensitisation walk was held throughout a few city streets. In attendance were hundreds of representatives from religious organisations, Non-Governmental Organisations (NGOs), students, MoPH officials and civil society decked out in yellow t-shirts and caps. While dancing to tunes played by a steel pan group they shouted, "No more suicide, life is precious, we must live it!"