– 69 new cases recorded in 24 hours
– patients to be transferred to Infectious Diseases Hospital next week
Guyana on Thursday recorded two new COVID-19 deaths, thus being the number of persons who perished from the novel virus to 132.
The latest deaths are a 54-year-old man from Region Four (Demerara-Mahaica) and a 74-year-old of Soesdyke/Linden Highway, Region Four. Both persons died while receiving medical attention at one of the facilities.
Guyana Times understands that family members of the 74-year-old who died also tested positive for the virus, and as such were quarantined.
Prior to these two deaths, the last deaths were reported on Tuesday after a 77-year-old female from Region Two (Pomeroon-Supenaam) and a 92-year-old man from Region One (Barima-Waini) had died.
Meanwhile, Guyana also reported 69 new cases of COVID-19. A breakdown shows that two new cases were detected in Region One (Barima-Waini), two in Region Two (Pomeroon-Supenaam), eight in Region Three (Essequibo Islands-West Demerara), 52 in Region Four (Demerara-Mahaica), two in Region Five (Mahaica-Berbice), two in Region Six (East Berbice-Corentyne) and one in Region 10 (Upper Demerara-Berbice).
The cases in Regions Seven (Cuyuni-Mazaruni), Eight (Potaro-Siparuni) and Nine (Upper Takutu-Upper Essequibo) remained at 377, 139 and 376 respectively.
The Ministry's release stated that 11 persons remain the Intensive Care Unit (ICU), 69 in institutional isolation, 772 on home isolation and 49 in institutional quarantine. As of Thursday, there were 3409 recoveries.
Infectious Diseases Facility
Health Minister Dr Frank Anthony on Thursday stated that they are looking to start transferring patients to the Infectious Diseases Hospital at Liliendaal, East Coast Demerara by next week.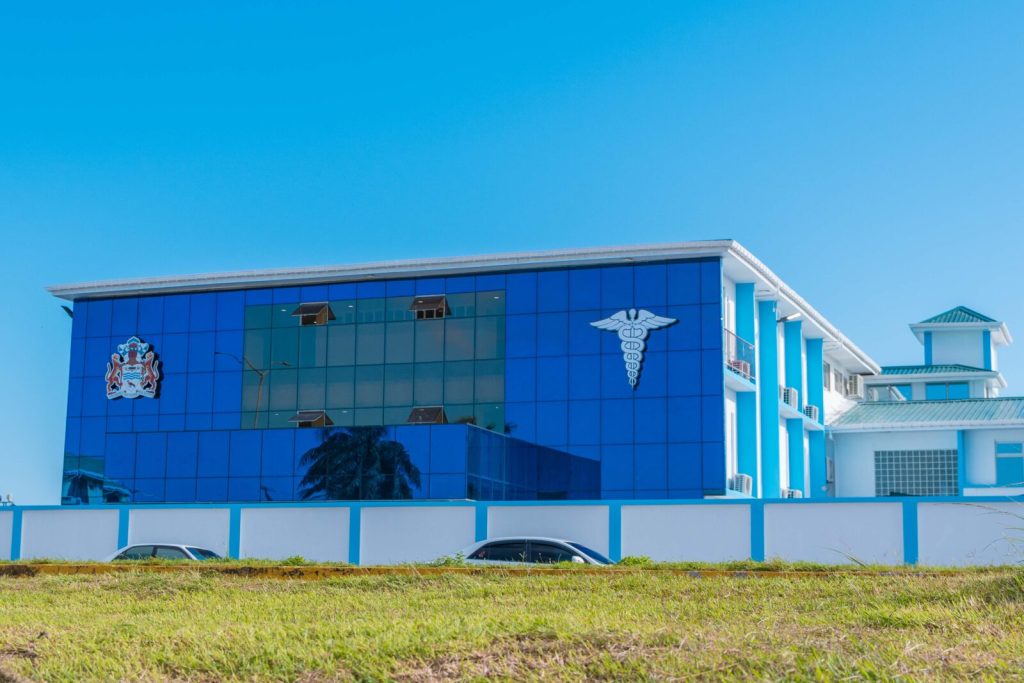 Presently, equipment is being installed at the facility. Once completed, it will ease the burden off the Georgetown Public Hospital.
"In addition to equipment that we would be taking across, we also have new equipment that we would've bought, ventilators and so forth. So those we're now installing. We want to start that transfer process by next week. Once we complete that, Georgetown Public Hospital would be able to return to some form of normalcy," the Minister shared.
Speaking on the staffing capacity at the new facility, he said some will be transferred from GPHC while there were some new recruitments.
"In terms of staffing, we do have the staff that are currently operating at the Georgetown Hospital at the Infectious Diseases ICU. Those staff would be going across to man the new ICU that we have and also, we had a number of persons that we brought on, maybe about a month ago, so they will continue to be part of the staffing arrangements."
Treatment
The Minister sought to point out that there is no specific drug as yet for treating COVID-19. As such, healthcare systems across many countries have been using medications which show positive results. Here in Guyana, remdesivir is used to treat critically-ill patients while some are treated with dexamethasone or other drugs.
"What one should bear in mind is that none of these medications are really specific to COVID. There is no specific drug for COVID. A lot of these medicines have been repurposed to help with the treatment of COVID. Right now globally, they're trying to develop more specific medicines for COVID-19."
As it stands, the upsurge of cases in Region One, specifically the Kwebanna area, is stable through non-stop sensitization, testing, sanitization and treatment. The cases are not at 52 active cases and checks were done in neighbouring communities. Some positives were detected in these communities but a medical team remains on the ground to continue monitoring.
COVI-CURB
Government had launched a massive campaign titled Operation COVI-CURB, aimed at sensitization, through collaboration with the Joint Services. Dr Anthony says this has seen successes. They also continue to address the myths.
"We've been tweaking the message, depending on the feedback that we're getting. In think by a large, most people know that they need to wear a mask, sanitize, keep safe distances…We would, in the near future, be bringing out some new messages. I think the Joint Services has been able to assist us greatly."