…confirmed cases jump to 19
Guyana has recorded its fourth death from the novel coronavirus (COVID-19), caretaker Public Health Minister Volda Lawrence confirmed on Wednesday.
Osa Collins, a 78-year-old resident of New Amsterdam, Berbice in Region Six (East Berbice-Corentyne), died on Wednesday afternoon at the Georgetown Public Hospital, where she was admitted into the COVID-19 Intensive Care Unit (ICU) after testing positive for the infectious disease.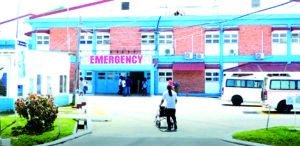 In a statement, the Public Health Ministry noted that Collins was considered an 'imported case' as she had recently travelled to Guyana from the United States of America.
On Wednesday evening, 59-year-old man identified only as "Mr Stoll" died at the at GPHC. He was initially at the Diamond Regional Hospital and was transferred GPHC where he succumbed.
Collins' and Stoll's death has brought up Guyana's death toll and the country has also seen an increase in the number of confirmed COVID-19 cases.
Increased cases
During the Public Health Ministry's daily update on the situation in Guyana, caretaker Minister Lawrence earlier confirmed five more cases, bringing the country's total COVID-19 cases to 19.
"In Guyana, as of… 31st March 2020, the number of confirmed cases has increased from 12 to 19 cases, with one inconclusive," she said.
According to Lawrence, these 19 confirmed cases hail from Region Three (Essequibo Islands-West Demerara) with one case; Region Four (Demerara-Mahaica) with 17 cases and one inconclusive case, and Region Six (East Berbice-Corentyne) also with one case.
In addition to an increase in confirmed cases, the number of tests conducted as well as the number of persons in quarantine and isolation have also gone up. Lawrence noted that the total number of persons who have been tested has moved from 52 to 70 with 19 positives, 50 negatives, and one inconclusive.
Moreover, the number of persons in institutional quarantine is now 36. There are 11 persons in isolation, including one person, who is hospitalised in the COVID-19 Intensive Care Unit (ICU).
Additionally, Lawrence noted that the number of persons currently under home quarantine, according to the Public Health Ministry figures, is 119.
Only on Tuesday, Guyana recorded its second COVID-19 death.
The victim – 38-year-old Jermaine Ifill, an Emergency Medical Technician (EMT) at a healthcare centre in Kitty, Georgetown, was one of two persons placed in the ICU of the Georgetown Public Hospital after testing positive for COVID-19.
Collins was said to be the second person in the COVID-19 ICU.
The EMT died on Tuesday morning and his wife, a nurse at the Georgetown Public Hospital, has since been quarantined.
Ifill reportedly complained of feeling unwell about one week ago, and subsequently tested positive for the virus. This newspaper was told that before being placed in the ICU, he was in the male ward at the medical facility.
Prior to his death, the medical professional had cautioned the hospital to enact precautions to ensure people were kept safe. This was also directed at the Ministry via his social media account.
Ifill's death came almost three weeks after the country recorded its first COVID-19 death on March 11.
Fifty-two-year-old Ratna Baboolall, who had recently returned to Guyana from New York, had also died at the Georgetown Public Hospital after being admitted one day prior.
Four of her family members, including a 13-year-old, have since tested positive for the novel coronavirus and are currently in isolation.
Meanwhile, Lawrence revealed too that as of Tuesday, calls to the COVID-19 hotline increased to 1142. She added that Regions Two (Pomeroon-Supenaam); Seven (Cuyuni-Mazaruni); Eight (Potaro-Siparuni), Nine (Upper Takutu-Essequibo) and 10 (Upper Demerara-Berbice) now have COVID-19 hotlines.
With cases now spread to two other regions across Guyana, authorities have outlined action plans in response to the infectious disease.
In Region One (Barima-Waini), the Mabaruma Regional Hospital has developed an external triage area and a coloured hand-band system for the differentiation of cases.
A separate isolation facility has been identified with capacity for 8-10 persons and quarantine capacity for two persons, which would be expanded as the situation progressed.
It was noted too that handwashing stations (with running water and hand soap) are at the entrance to the hospital. The cleaning staff has also started sanitising floors and surfaces every two hours.
In Region Six, authorities have expanded the quarantine facility to cater for 30 additional persons.
According to Lawrence, these as all part of measures put in place to contain and mitigate the further spread of this virus, through the strengthening of community and hospital surveillance as well as the rapid response surveillance team.
Closed airports
As Guyana continues its fight against the infectious disease, which has devastated countries around the world, authorities have closed the Cheddi Jagan International Airport (CJIA) and the Eugene F Correia International Airport for another month until May 1, 2020.
The airports have been closed since March 18 and were expected to be opened on April 1, but according to caretaker Public Infrastructure Minister David Patterson on Tuesday, "…due to the circumstances not only in Guyana but internationally, the GCAA (Guyana Civil Aviation Authority) had recommended that it remains closed."
The Pan American Health Organisation/World Health Organisation (PAHO/WHO) has projected that Guyana would record some 1400 COVID-19 cases, of which some five per cent is expected to be critical.
Guyana had its 700 COVID-19 testing kits boosted following the donation of an additional 1100 kits from PAHO/WHO last week along with 14 ventilators.
Director of the Disease Control Unit, Dr Nadia Liu has already stated that only persons who present symptoms are being tested, since timing can influence the accuracy of the results.
If anyone is experiencing symptoms of the coronavirus, they are asked to call the hotline on 227-4986 ext 215 or 624-3067 and a team would be sent to their location.