Making it clear that Guyana wants to evolve its economic ties with Canada and other countries, Finance Minister Dr Ashni Singh on Tuesday signed a Memorandum of Understanding (MoU) with a Government Minister from Canada.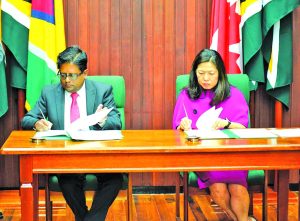 Dr Singh signed on behalf of the Government of Guyana while Canadian Minister of International Trade, Export Promotion, Small Business & Economic Development, Mary Ng signed on behalf of the Canadian Commercial Corporation, which is owned by the Government of Canada.
Canada's International Trade, Export Promotion, Small Business and Economic Development Minister is presently leading a business delegation to Guyana to explore trade opportunities.
The visit to Guyana is part of trade exploration to examine sustainable business opportunities in clean technology and green infrastructure in Guyana, Barbados, Jamaica, and Trinidad and Tobago.
The MoU signed on Tuesday will facilitate cooperation and exchange of information regarding the procurement of Canadian goods and services by Guyana. President Dr Irfaan Ali, who met Ng along with several other members of his Cabinet earlier, witnessed the MoU signing.
In his address to the attendees, Minister Singh spoke of the path of economic expansion that Guyana was currently on and the fact that Guyana wanted to evolve its economic ties and relationships, not only with Canada but other "friendly" countries.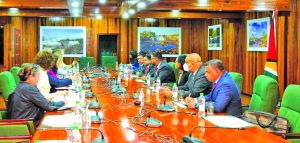 "We see this as an opportunity for those relationships to evolve with the same speed with which the Guyanese economy is changing right now. And so, your visit to Guyana, and the trade mission you're leading, comes at the most opportune time.
"We see incredible opportunities for Canadian companies to invest in Guyana. We have, as a government, worked very hard to create an investment climate that is hospitable and attractive to Canadian companies and we would like to see more Canadian companies investing in Guyana," he said.
According to Dr Singh, the MoU signed establishes a framework within which more Canadian companies can do more business within and with Guyana. He noted that Guyana anticipated the MoU leading to a greater presence of Canadian businesses in Guyana, as well as Guyanese businesses also establishing a presence in Canada.
"Similarly, of course, we look forward to greater and closer economic relations in every other regard, of course in Guyanese companies doing business in Canada and closer economic and commercial ties, in every respect and in every sector of the economy."
In previous comments on her visit to the Region, Ng had said, "I am thrilled to lead this trade mission, as it will strengthen the long history of collaboration and trade between Canada and Caribbean countries. During the mission, Canadian businesses will network, learn about trade opportunities and build stronger bridges to grow our economies, create jobs, and benefit people across our nations."
In a release from the Government of Canada ahead of the visit, it was stated that the Caribbean was rich in diversity and natural resources and shared a mutual interest with Canada in further developing green and blue economies.
"Growing Canadian partnerships with members of the Caribbean Community [Caricom] allows Canadians to promote their businesses and for our nations to work together to build sustainable recoveries from the COVID-19 pandemic. The Caribbean is poised for a post COVID-19 economic recovery with opportunities for growth in green infrastructure, renewable energy, climate resilience, financial services, extractives, tourism, and education," the release had said.
The Canadian Government had also stated that the trade mission will give new and experienced Canadian exporters the chance to explore the growing number of sustainable business opportunities in clean technology and green infrastructure in the Region.
It had added that the Canada-Caribbean Trade Mission will help grow partnerships with members of Caricom, promote Canadian businesses in key sectors, and help build a path to sustainable recovery from the pandemic.