…as it pushes for global vaccine equality
At a time when vaccine inequity has hindered small and developing countries across the world from fighting the SARS-CoV-2 virus and its variants, Guyana has thrown its support behind the waiver of intellectual property protections for COVID-19 vaccines.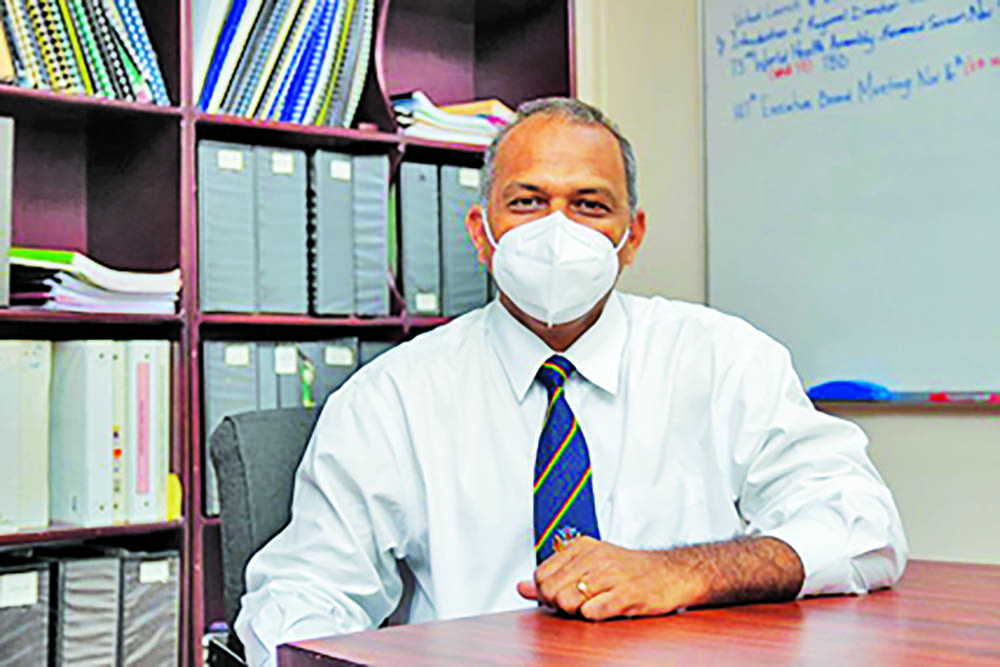 This was indicated by Minister of Health, Dr Frank Anthony, during his address on Wednesday to the 74th World Health Assembly, which is being held virtually from 24 May to 1 June, 2021.
Earlier this month, the United States announced its support of the waiver of the Trade Related Intellectual Property Rights (TRIPs) at the World Trade Organization (WTO). The wavier seeks to temporarily suspend intellectual property protections on COVID-19 jabs in order to achieve vaccine equity and global health security.
With its support of the TRIPs wavier, the U.S. has now joined India, South Africa and more than 100 other countries to help produce more vaccines to fight the COVID-19 pandemic.
"We applaud the stance taken by the U.S. on the TRIPs waiver. Guyana supports the call by India and South Africa for waivers to allow the global production capacity to bring relief to the vaccine supply chain. In that regard, Guyana believes that the discussion around the Nagoya Protocol is a significant discussion at this 74th WHA," Dr Anthony said in his virtual address to the Assembly.
He noted that the hosting of the assembly comes at a difficult time, when the devastating COVID-19 pandemic has crushed many lives and livelihoods across the world. He added, however, that the horrors of this pandemic would have been unimaginable had science and public health not stood tall in response.
"While the virus brought sufferings and too many deaths and disruptions to the global economy, our scientists, researchers, medical, health, and other personnel have marshalled the science to understand this new disease, and to rapidly develop new diagnostic technologies, medicines, and vaccines… So, today, Guyana also joins in acknowledging the efforts of the global scientific, medical and public health communities, and in extending our sincerest gratitude to everyone," he posited.
The Guyanese Health Minister outlined that collective actions under the World Health Organization's (WHO's) leadership have seen the creation of the Access to COVID-19 Tools accelerators (ACT- A) to accelerate the development, production and distribution of diagnostics, therapeutics and vaccines.
He reminded that it has also created the COVAX mechanism, which has worked hard to secure and distribute vaccines to countries worldwide.
According to Dr Anthony, these efforts, while far from perfect, has made a tremendous difference to many countries, especially those that are struggling to independently access COVID-19 vaccines. As such, he noted more needs to be done.
"We, however, remain deeply concerned that despite the best efforts, there persist inequalities in availability, access and distribution of vaccines, and we will like to urge that concrete steps be taken to rectify the vaccines' inequity as quickly as possible," the Guyanese Health Minister asserted.
Nevertheless, he expressed gratitude to the COVAX facility, of which Guyana was one of the beneficiaries, and all the donors who have made this initiative possible.
Guyana has so far received two tranches, totalling 62,400 doses of the AstraZeneca/Oxford vaccine from a total of 100,800 jabs pledged by COVAX. Guyana is one of ten countries in Latin America and the Caribbean that are receiving vaccines at no cost through the COVAX Advance Market Commitment (AMC).
This 74th World Health Assembly (the decision-making body of WHO) will allow Member States to deliberate on a list of global health priorities. It is being held under the theme: 'Ending this pandemic, preventing the next: building together a healthier, safer and fairer world.'
Dr Anthony has said there is no doubt that COVID-19 has changed the world, and although it has left a trail of death and destruction, Member States have an opportunity to inject hope, to build stronger global solidarity, to transform the world into a healthier and better one.
Only Monday, WHO Director-General Tedros Adhanom Ghebreyesus told the opening of the annual Assembly of Health Ministers from its 194 member states that the COVID-19 pandemic is being perpetuated by a "scandalous inequity" in vaccine distribution.
He disclosed that more than 75 per cent of all COVDI-19 vaccines had been administered in just 10 countries.
"There is no diplomatic way to say it: a small group of countries that make and buy the majority of the world's vaccines control the fate of the rest of the world," Dr Tedros posited.
Against this backdrop, the WHO Head outlined some new targets aimed at protecting people in the poorest countries, which cannot access the jabs on their own. He urged developed countries to donate vaccines to the COVAX mechanism which is run by WHO, and the GAVI vaccine alliance, so that they can immunise at least 10 per cent of populations in all countries by September, and 30 per cent by year-end.
Since its rollout in February, the COVAX facility has so far delivered 72 million vaccine doses to 125 countries and economies. This, according to Dr Tedros, is barely sufficient for one per cent of the populations in these countries.
The WHO Head has said that, with their target, they are hoping to vaccinate 250 million more people in just four months.
"This is crucial to stop disease and death, keep our healthcare workers safe, reopen our societies and economies," Tedros stressed.