The Management of the Guyana-Suriname Ferry Services on Tuesday announced that the MB Sandaka which plies the Guyana-Suriname route will be in operation on Wednesday, March 19 for only one day.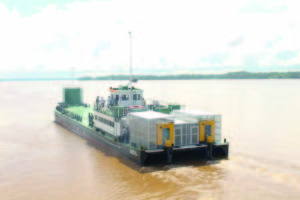 A release from the Ministry of Public Infrastructure advises that the vessel will depart Moleson Creek Terminal, Guyana at 9:00h with check-in time set between 6:30h and 8:00h.
"This service will only be facilitated to Surname nationals or Surinamese by Naturalisation with resident status, that is, he/she must be the holder of a Surinamese passport", the notice stated.
The release from the Ministry pointed out that upon arrival in Guyana, Port Health Officials will be present to screen each passenger in light of the coronavirus outbreak.
"Guyanese are asked to make a special effort to take advantage of this opportunity. The Management of Guyana-Suriname Ferry Service sincerely apologises for any inconvenience caused at this time".
This disclosure comes in the wake of the ongoing global outbreak of the coronavirus (COVID-19).
The 2019–20 coronavirus outbreak has been declared a Public Health Emergency of International Concern. It is caused by the SARS-CoV-2 coronavirus, first identified in Wuhan, Hubei, China on March 8, 2020.
Thus far, more than 107,000 cases have been confirmed, of which 5800 were classified as serious. Meanwhile, over 100 countries and territories have been affected by the deadly virus.