The curtains came down on the 2019 three-match Basketball Goodwill Series with Guyana decimating Grenada 97–73 in the final match to clean sweep the series 3-nil.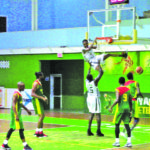 The three nights of intense action at the Cliff Anderson Sports Hall (CASH) saw Guyana play their best basketball as a precursor to the 2020 CBC Championships, wherein Guyana will be defending the title they won last year in Suriname.
As per norm, the Grenada side were outscored in the first quarter to trail 17-21 heading into the second. They showed some intent of securing a consolation win early on, but that faded as time ticked over.
However, heading into the second quarter, luck was not on their side as their composure fell apart and that saw them only picking up 13 points before the half time whistle, while Guyana cashed in 35 points.
The half ended with Guyana sitting pretty with a 26-point lead as the score read 56–30.
Despite showing some fight in the third quarter, matching the locals with bucket for bucket, the massive lead still remained; and the penultimate period ended 81 – 55.
For Guyana it was smooth sailing in the fourth, as they put on only 16 points and allowed the opposition some consolation shots, which brought them 22 points before the final buzzer.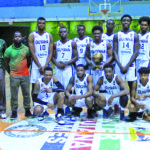 Guyana was once again led by the in-form Ray Victor who scored 17 points, while he was supported by Nikkoloi Smith (16), Travis Belgrave (15) and Terron Welch (10).
Victor accumulated the most points for the series with 72 points while Welch ended with 57 and Belgrave counted 33.
This display has proven that 2018 CBC Champions are well on course to defend their title in 2020.