– inter-governmental negotiations slated for this month
As consultations on effectively managing migration got underway, Guyana has thrown its support behind a global compact designed to have nations facilitate and manage the safe migration of local and foreign nationals.
On Monday, Guyana hosted an International Organisation for Migration (IOM) consultation session. There, issues relating to the safety and management of migrants were discussed by the United Nations agency and Government officials.
During his address to the gathering, Foreign Affairs Minister Carl Greenidge made the case for the benefits of migration, which include remittances and skills transfer.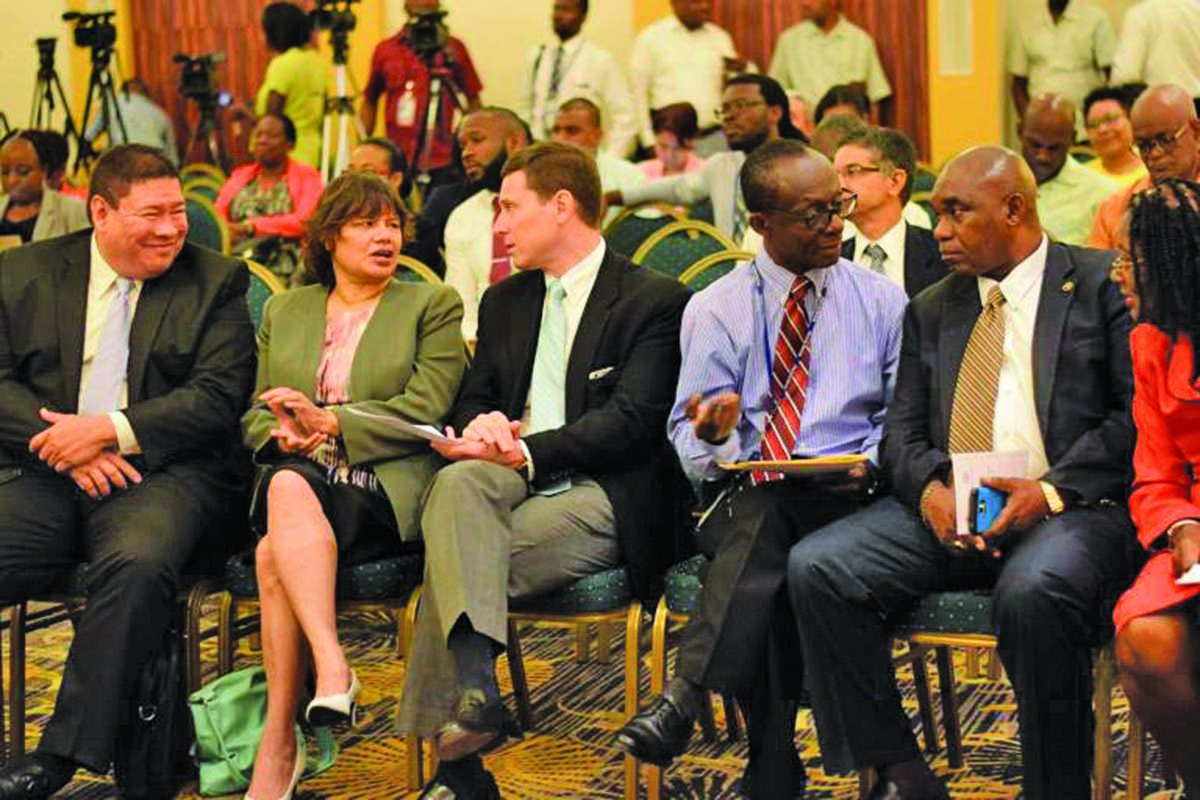 "Migration isn't just advantageous to the source nation. As we know, remittances have boosted the national income of many developing nations. And Diaspora communities have created and strengthened bonds between countries. And I don't have to isolate Guyana in that regard, where remittances in particular have constituted a significant proportion and at times as greatly as 17 per cent of GDP [Gross Domestic Product] in any one year."
In 2017, he added, some US$450 billion in remittances were transferred to developing countries.
"Migrants are linked to improvements in skill, and returnees have brought with them many insights, new approaches and a certain energy that goes with such persons. And it has served to motivate (others). Diasporas have contributed to their home countries with investments and philanthropy."
But Greenidge emphasised that the potential negative consequences from poorly-managed migration were not lost on the Government. He noted that basic challenges such as ensuring human rights were maintained must be dealt with.
Head of the Diaspora Unit of the Foreign Affairs Ministry, Michael Brotherson, expressed the Government's support for the compact. He noted that having played a part in IOM talks previously, Guyana was looking forward to continuing the discourse. It is understood that inter-governmental negotiations will commence later this month.
IOM is an inter-governmental organisation that works with UN Member States to ensure safe and orderly migration. Guyana has not only experienced a migration of its skilled and unskilled workforce in the past; it has most recently experienced an influx of migrants and re-migrants from Venezuela.
Venezuela, once an economic powerhouse in the Region driven by oil revenues, has been dealing with issues such as a downwardly spiralling economy and civil unrest. And despite the border controversy, there have been several instances where Guyana has either been called upon to render assistance or has offered such assistance.
There have been persistent reports of a shortage of basic services in Venezuela, including health services, due to the failing economy and unrest that has gripped the nation. Back in May 2017, Venezuelan Ambassador to Guyana, Reina Diaz had called on Guyana to support her Government's efforts to end this unrest.